Sailing is one of the most exhilarating and peaceful activities to be found. With a rush of wind through the sails and the splashing of water off bow, the boat moves peacefully across the surface of the sea or lake. As the hours drift lazily by, let someone look after the details and navigation as you enjoy the scenery.


Total listings: 1 Showing: 1-1
Page:

[1]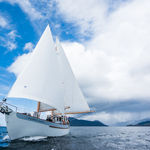 Small-ship Sailing Expeditions in Canada's Remote Wilderness.