Sailing is one of the most exhilarating and peaceful activities to be found. With a rush of wind through the sails and the splashing of water off bow, the boat moves peacefully across the surface of the sea or lake. As the hours drift lazily by, let someone look after the details and navigation as you enjoy the scenery.


The ultimate Sunshine Coast vacation experience...
Madeira Park, V0N 2H0, 12695 Sunshine Coast Hwy.
Ph. (604) 883-9177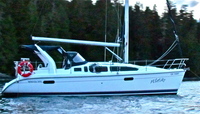 Come explore the Barkley Sound and Broken Group Islands in style and comfort aboard "Pegusus" our fully equipped Hunter 340. With sightseeing, wildlife viewing (whales, bears and birds) and hands on sailing experience.
Ucluelet, V0R 3A0, 1917 Peninsula Road
Ph. 250 266 0035