British Columbia Travel Guide

The unofficial BC Travel & Tourism Guide

The untouched and open wilderness of Clearwater's water ways and parks give travelers seeking a remote outdoor escape, bold experiences offered only in The Thompson Valley.

Select to observe natural wonders such as the Dawson Falls, lakes at the famous Wells Grey Provincial Park, or white water river rafting on the Thompson River.

The North Thompson Valley consists of six communities; Barriere, Little Fort, Vavenby, Avola, Blue River and Clearwater. Visiting these sights and landmarks through the valley can become an individual journey that travelers can plan over a week or more, especially if hiking or camping the Provincial Parks.

Industry:
Cattle & Forestry


Population: 4,960

Highlights:
Lake Tours
Helicopter Tours
Boat & Water Taxi Tours
Terrific Hiking and Wilderness Adventures

History:
The area around Clearwater has a long history of First Nation bands which thrived for thousands of years and fought to defend their territory in The Thompson Valley.
Known as the most distinct First Nations band, the Okelhs, lived, hunted, and fished the abundant waterways throughout the valley until they were eventually defeated by the Chilcotin band in 1870.

On the way to search for great wealth, prospectors and pioneers who had come to the New World in the late 1800's had ventured to The Thompson Valley by 1860 on their way to the Cariboo and reported gold rush towns. Journey was primarily by saddle train until the 1916 when the Canadian Pacific Railway was being built through the valley to allow access and easier transport of supplies, ore and materials.

Climate:
Summer average 18 degrees Celsius
Winter average 5 degrees Celsius
Clearwater Accommodations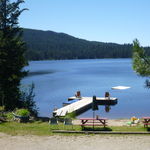 Experience the wilderness at Star Lake Resort. We offer 5 bright clean housekeeping cabins & 10 campsites with a lake full of Rainbow Trout - all just 15 minutes from town!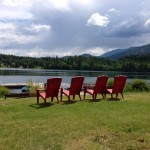 Scenic & quiet on Dutch Lake. 9 self-contained lakeside cabins, 65 RV/campsites and the Painted Turtle Restaurant in Clearwater BC.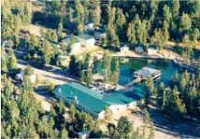 The hotel to stay at on your visit to Wells Gray Park

Clearwater Things to Do