British Columbia Travel Guide

The unofficial BC Travel & Tourism Guide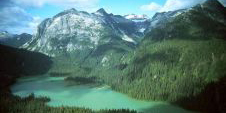 Only eighty seven kilometers from the Langdale ferry, between Powell River and Langdale, visitors will arrive at the Earls Cove terminal. The ocean bound destinations, sounds, bays, waterfalls and harbours create some of the most scenic journeys taken on British Columbia's Sunshine Coast. Pleasure boaters from all over the world frequent this region for is spectacular and rare wildlife and wilderness viewing.


Kayaking, mountain biking and hiking the area provide visitors a once in a a life time wilderness or shore side experience not soon forgotten. Eagles and many other wild birds are a common sight - so are deer, seals, and salmon.

Egmont hosts numerous public and provincial parks for camping or RV visitors. Along with a terrific wilderness tour guide experiences.

Population: 200+

Highlights:
Skookumchuck Provincial Park - The trail leading to Skookumchuk, a truly awe inspiring tidal race of whirlpools and eddies, is accessed from the road leading into Egmont.
Mount Churchill
Prince of Wales Reach
Freil Falls at Freil Lake / Hotham Sound
Princess Louisa Inlet and Chatterbox Falls
Ruby Lake Lagoon Nature Reserve
Suncoaster Trail - mountain biking
Egmont Day - held in June
The HMCS Chaudiere man-made reef at Kunechin Point, and Foley Head at Jervis Inlet are deep sea diving hot spots.

History:
Named after the HMS Egmont, which served under Rear-Admiral Sir John Jervis at the Battle of St. Vincent in the 1700's, Egmont was founded in 1880 by seaman and trader, Joseph Silvia Simmonds.

Climate:
Summer average 19 degrees Celsius
Winter average 2 degrees Celsius
Egmont Accommodations
Egmont Things to Do
Egmont Heritage Centre