British Columbia Travel Guide

The unofficial BC Travel & Tourism Guide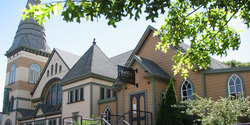 A theatre, coffee shops, art galleries and restaurants are nestled in the four-corners of this historic part of Victoria. Most of the buildings date from the turn of the 19th century or earlier, including the old Victoria High School that was designed by Francis Rattenbury, architect of the beautiful Legislative Buildings on Victoria harbour.
Highlights:
The Belfry theatre has been producing plays in the old church building, with its quaint bell tower since 1976. Explore a gallery, take in a play, or sit in Fernwood square and enjoy an espresso. The area is pedestrian friendly and an easy walk or bus ride from downtown.
History:
A spring in Fernwood was the original source of drinking water for Victoria, and gave the area its first name, Springridge. Over time, Fernwood has been home to a mixture of residents, including the Hippie movement in the 1960's. Vestiges of counter-culture are still present in this eclectic neighbourhood.
Fernwood Accommodations
Fernwood Things to Do