British Columbia Travel Guide

The unofficial BC Travel & Tourism Guide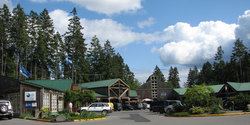 The natural park lands, pristine settings and well maintained public campgrounds are an optimum location for interested campers. While kayaking around the island visitors get up close and personal with the birds, sea life and concaved sandstone shoreline etched by the oceans constant surf. The views and spectacular reflections of a sunrise, sunset or glowing moon in the ocean creates moments of shear magic. Peace and tranquility can be found in various corners of the Gabriola Island as well as in the various choices for accommodation. Visitors will have no difficulty finding the perfect spot to pitch a tent under the forest canopy or a secluded retreat with pillows for two.


Guests visiting by boat will find the amenities and the Gabriola marina available to accommodate every basic need. However, the island happens to also be one of the most accessible of the Gulf Island's chain. Daily vehicle ferry schedules provide commuters and visitors with consistent service via Nanaimo on Vancouver Island. You can spot orcas, seals, sea lions, and otters from a boat or the shore side.

Gabriola Island has also be nicknamed "Petroglyph Island" since it has become so well known for the multitude of First Nations aboriginal carvings held in the Gabriola Museum and marked park locations.

A large community of artists has grown in the last ten years on Gabriola. This population of cottage industry potters, painters, crafters, soaps makers and creative sewers are available in their studio locations on route (road sign markers) or in local gallery shops. In the summer time (May to September), the local Farmers markets are a big hit with visitors and locals from the neighboring shores.

Dancing Man Music Festival in late April is also a highlight, where visitors can observe and be entertained by the remarkably talented local singers, musicians and actors.

Highlights:
Petroglyph Park
Orlebar Point
The Malaspina Galleries - Walk the beach at Taylor Bay to this limestone formations carved by surf and frost.
Gabriola Museum
Sandwell Provincial Park & Drumbeg Provincial Park

Climate:
Summer average 19 degrees Celsius
Winter average 5 degrees Celsius

Things to bring:
Public transportation is not available on the Gabriola Island, an automobile or bicycle is recommended.

History:
According to anthropologists the sandstone carvings or petroglyphs at the Malaspina Galleries, date back nearly 2,000 years. During which time the First Nations tribes inhabited the surrounding islands and often used smaller islands as stop over points during food collection journeys. These carvings represent lives, stories, events and spiritual meanings in drawing (as no written language was used).
This "gallery of stones" was named after the Spanish explorer, Alessandro Malaspina, who under royal commission, was send on a scientific expedition in 1789 around the world and happen to also discovered some of the Pacific Coast's unique treasures.

Population: 4,200
Gabriola Island Accommodations
Gabriola Island Things to Do