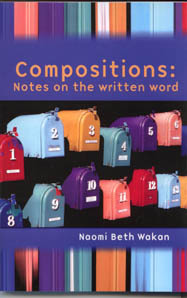 Naomi Beth Wakan is a writer who has compiled/written over thirty books including Images of Japan (Pacific-Edge Publishing) and Haiku: one breath poetry (Heian International). The latter book was a choice of the Canadian Children's Book Centre and was also selected by the American Library Association for its 2001 catalogue of Popular Paperbacks for Young Adults. Her most recent book of poetry, Segues, was published by Wolsak and Wynn in the Spring of 2005. Her book to encourage the older writer, Late Bloomer - on writing later in life was published by Wolsak and Wynn, Toronto, Fall, 2006. Her most recent book from Wolsak and Wynn is Compositions: notes on the written word, Spring 2008. Her writing workshops, Late Bloomers, are to inspire and empower the older writer. Her book of essays, Book Ends will be out from Wolsak and Wynn, Spring 2010. Naomi is a member of Haiku Canada and contributes frequently to their newsletters. She is also a member of The League of Canadian Poets and Tanka Canada. Her poetry and essays have been printed in numerous magazines including Geist, Room of One's Own, Moonset and Resurgence. She lives on Gabriola Island, B.C. with her husband, the sculptor, Elias Wakan.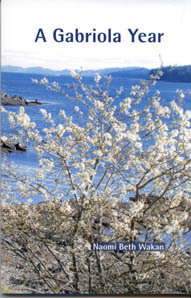 "Gabriola Year" is Naomi's homage to the little island where she lives. The book describes day-to-day life and community events on the island of Gabriola in the Georgia Strait.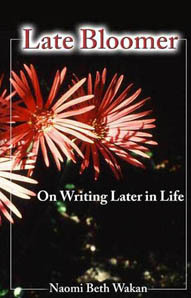 "Late Bloomer - on writing late in life" is Naomi Beth Wakan's popular book to encourage the reader who says they will write one day, but haven't yet. Bobbie Jo Sheriff, the editor of "Senior Living Magazine" describes it as "sinsightful, inspirational and honest."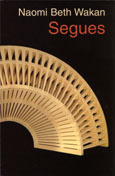 "Segues" is Naomi Beth Wakan's first major book of poetry. Richard Harrison says of it "I loved this poetry. This is someone who's seen life, knows it pulls no punches, and who can still laugh like a child running down a hillside. I can hear her voice. I can hear her."





To see all of Naomi Beth Wakan's books in print go to
www.naomiwakan.com

To contact her:
naomi@naomiwakan.com