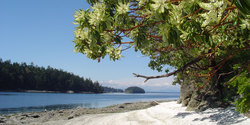 Galiano Island lies between Vancouver, on the mainland, and Sidney, at the bottom tip of Vancouver Island. Both provide a ferry terminal and service to Galiano Island. By car or by bicycle, visitors can enjoy the country side, vast forest flora and fauna, and stop to take in waterfront beach picnic spots that look out into the open waters and the surrounding islands. The mild climate here and the quiet nature of the community are both welcoming to visitors. Camping, lodging, day retreats, RV travelers, and hikers all blend harmoniously with the wilderness and island pace. Finding relaxing locations or activities is not at all difficult. The offshore fishing, sailing, and kayaking are great ways to pass the time, take a tour, or possibly get a glimpse of the sea life that make their homes along Galiano's shores. Commonly whales, sea otters, sea lions, seals, eagles and porpoise are spotted in proximity to the island.


Nature lovers and outdoor enthusiasts with a sense of adventure and good pair of hiking shoes will find plenty of trails and beaches to explore. The limited amenities of the island help to preserve the unpopulated and pristine nature of the island. Local accommodations and the town can provide most necessities and a few refined luxuries including the view!

Population: 1,000+

Highlights:
Montague Harbour Provincial Marine Park
Mount Galiano
Bodega Ridge Trail
Dionisio Point Provincial Park
Bellhouse Provincial Park
Bodega Ridge Nature Preserve perfect birdwatching
Galiano Golf Course

History:
Islands off the coast of British Columbia were in habited by the First Nations Salish tribes for over 5,000 years. The dense forest made for excellent shelter from winds and the red cedar was used to carve canoes and hand hewn beams for their long houses. The ocean and fresh water streams supplied plenty of salmon and trout. From the shore, otters, seals, sea lions and orca migrate through the area during various times of year.

It wasn't until explorers, such as Spanish explorer Dionisio Galiano in 1792, entered the watery coast line in search of the "New World" that the coastal region was identified for its abundant food resources, sheltered harbours and potential fur trading.

Climate:
Summer average 18 degrees Celsius
Winter average 4 degrees Celsius
Galiano Island Accommodations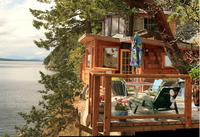 The Perfect Getaway!

Galiano Island Things to Do