This is a recent evolution of an earlier ring of mine . Can be ordered for the same price with a variety of common stones.
This is an all time favorite handcrafted ring design by Hawk and Owl.
Substitute stones for this ring are Moonstone, lapis lazuli, malachite, turquoise, amber, carnelian and garnet.
A very nice Australian opal set in a Unique one of a kind design by Hawk and Owl.
For a look at more unique Jewelry designs please see my
http://www.hawknowl.com/oneofakind_archive/index.php
One of a Kind Jewellery Archive: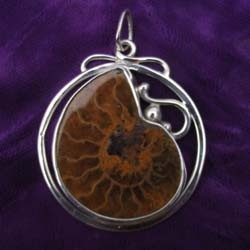 Here is an ammonite fossil pendant in silver.
Ammonites lived till about 65 million years ago. Both BC and Alberta have many types of ammonites from the lower cretaceous age.
This one of a kind custom ring in a unique art nouveau design is a hand made original ring.
For custom work enquiries regarding custom designs by Hawk and Owl or
if you have ideas of your own that you would like to manifest
please

email for a free consultation.