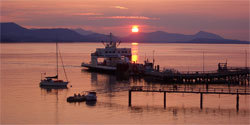 Photo: Jacqui Swan
At seventeen miles long and nine miles wide, Salt Spring lies in the sheltered waters off the east coast of Vancouver Island (part way between Victoria and Vancouver BC). Many artists have moved to the island to escape city life and enjoy the beautiful ocean views, forest inspiration and laid back attitude of the locals who all want to rejuvenate. Visitors find the island to be full of wonderful easy-going recreation and great studio art tours among other forms of entertainment such as; theater, galleries, boutique shops, camping, wineries, and beachcombing. For a little extra special relaxation, guest can indulge themselves with yoga, massage therapy, reflexology or ayurveda therapy. Possibly even a day as the spa with hot stone or soothing pampering.


One of the most exciting organized community arts and culture activities is the Studio Tour. Artists of all mediums and talents are listed with on a map and self-guided tour (available at the information center in Ganges) that allow guests to the island the opportunity to visit the artists (during regular business hours is recommended) so that they may get a first hand impression of their works, private galleries, works for sale, and their actual place of creation!

There are four major areas to the island; Vesuvius harbour, the central town centre of Ganges, Fulford harbour (ferry service to Victoria on Vancouver Island)and Long harbour (ferry service to Vancouver/Mainland, Tsawwassen).

There is great fishing to tackle from the ocean or fresh water lakes - Salmon (Sockeye, Pink and Chinook), cod, halibut, sole, Smallmouth Bass, Rainbow trout, Cutthroat Trout and Steelhead.

Familiar wildlife sitings include; sea lions, Killer Whales, Minks, River Otters, crabs, mussels, limpets, oysters, sculpins, starfish, cormorants, grebes, guillemots, eagles, grouse or quail.

Population: 9,279

Highlights:
Mount Maxwell Provincial Park
St. Paul's Church
Alfred Ruckle House
Beaver Point Hall
The Marina at Ganges
Akerman Museum & the Old Vesuvius Burial Ground
ArtSpring Centre
Saturday Markets in Ganges - end of March to mid October in Centennial Park
Ruckle Provincial Park
Wallace Marine Provincial Park - 18 walk-in campsites
Artisan Studio Tour trail - self-guided, features over 40 artists and their work

History:
The First Nation Coastal Salish have inhabited the island near the southern tip where the Tsawout Band Reserve is located today. Surrounding island tribes such as The Wsanec people of the Saanich Peninsula and the Cowichan people from the Cowichan Valley frequented Salt Spring Island's shores for its numerous resources.

European (British & Spanish) explorers visited these shores in the 1800's. It wasn't until the 1850's that the first settlers took root when the gold rush ran low. In 1850, a small pool of Black slaves who had purchased their freedom in the USA arrived in hopes to start a new life. Even more settlers arrived of varied home lands; Portugal, Scandinavia and Japan.

In the 1960's & 70's, many young people looking for the care free artisan lifestyle populated the island.

Interestingly, today, it now has the Salt Spring dollar, a currency good only on the island and available for purchase in a few local stores.

Climate:
Summer average 18 degrees Celsius
Winter average 3 degrees Celsius
Salt Spring Island Accommodations
Welcome to your oceanfront suites on a private beach. Minutes to town, but a world away! Peaceful, private wooded 3 acres. Excellent swimming, hiking, and baking!.

Salt Spring Island Things to Do