British Columbia Travel Guide

The unofficial BC Travel & Tourism Guide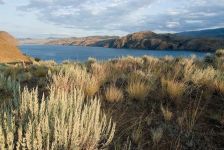 Travelers can divide their time between walking wildlife parks, fishing, sitting at a rodeo, playing a round of golf, hopping a ride on a steam train and exploring the architecture of the West End's heritage homes. Full of amenities, shops, theatre, the symphony orchestra and various accommodations travelers can create the ultimate wilderness vacation. Kamloops is a porthole to pristine grasslands, mountain peaks and crisp fresh air!


When taking in some of the views of grassy ranges and forested hill tops visitors may encounter some of the unique species living in the area such as; boreal owls, moose, singing hermit thrush and chattering red squirrels. They many also may find themselves along a particular hillside dating back forty-eight million years where rare rock formations, layers of earth, petrified remains lay waiting to be discovered - a unique opportunity for geology and paleontology enthusiasts. If you happen to know or be a gardener you may want to take note the bright yellow and orange marigolds throughout the parks, which are the city's official flower.

Population: 89,900

Highlights:
Water sports; snorkeling whitewater river rafting, & sailing
Rock hounding & fossil hunting
Winter sports; ice fishing, dog sledding, snowmobiling, cross country skiing & downhill skiing
Wilderness Park
Kamloops Museum & Archives
Galleries & Theatres
13 Golf Courses

History:
The aboriginal Shuswap People inhabited the area up until the mid-late 1800's. Their way of life is well documented at the Secwepemc Museum and Heritage Park. Discover the daily living, pow wow ceremonies, methods of hunting and craving traditions of Kamloops' first inhabitants of the area after the great ice age.

Climate:
Summer average 22 degrees Celsius
Winter average -4 degrees Celsius


For more information please visit www.tourismkamloops.com
Kamloops Accommodations
Kamloops Things to Do