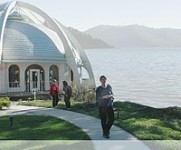 Resting on 120 acres of woodland where the mountains touch the waters of Kootenay Lake, Yasodhara Ashram is a vibrant spiritual community. People come here from all over the world to learn about yogic practices year round. Swami Radha founded the Ashram in 1963 and it continues to grow and thrive.

Coming to the Ashram as a retreat guest is a peaceful and flexible way to experience life in this vibrant spiritual community. A retreat at the ashram provides the perfect setting to experience yoga as more than just the physical practice. Reinvigorate and go deeper with your own yoga practice or experience an authentic introduction to these ancient teachings. Your retreat experience is yours to create. We are open to retreat guests year-round and the length of your stay is up to you.

As a visitor, come visit the Temple of Divine Light, or our bookstore and gift shop, open 9 am - 6 pm daily, with few exceptions.

A yoga paradise...
Canada's Best Yoga Retreat: Readers Digest, June 2008

" The food is delicious, the air is fresh, and the residents are wise and patient." -Lisa Gregoire, Canadian Geographic Travel magazine

"Forgiveness welled up... Acceptance brought peace to my heart."
-Daphne Gordon The Toronto Star.

"...I'm grateful for the kindness and acceptance of the people who make up the Ashram community and the beautiful, beautiful setting. It's a place that nurtures the examination of one's inner and outer life." -M. M. Vancouver, BC

Yasodhara Ashram is the winner of the 2009 Tourism BC Environmentally Responsible Tourism Award, which acknowledges outstanding leadership in environmental sustainability.