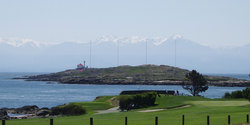 The elegant homes, stately mansions, stone frame works and manicured lawns are distinct characteristics of the properties owned by the local distinguished families of Victoria. Oak Bay is heavily populated by Victoria's retired citizens, hence it is recognized as an "old money" community. The village charm suits the easy walking atmosphere that has given Oak Bay the reputation for its delightful tea houses, sweet shops, bakeries, antique shops and pubs. The lanterns, clean streets, dozens of walk ways, pristine garden landscapes, hanging baskets, quiet marina, ocean front dining, seaside golf course and sandy beaches are just some of the loveliest pleasures Oak Bay offers. Throughout the drives and parks old Gerry Oak trees greet the sky line, which share their namesake with the town and are preserved in the city by-laws forbidding the removal of these regionally unique grandfather trees.
Population: 17,800
Highlights:
Oak Bay Marina
Willows Beach
Oak Bay Village
Uplands Golf Course
Royal Victoria Yacht Club
Chinese Cemetery
Abkhazi Garden and Tea House
John Tod Heritage House
Things To Bring:
Be sure to pack sunglasses, an umbrella and a light sweater there is the chance that the weather turns either way at some point in the day.
History:
As most of lower Vancouver Island was populated by the members of the Songhees First Nations Tribe, in Oak Bay the most relative historical native areas were around Willows Beach.

After Victoria was settled by the first white explorers in the 1700's, it wasn't until 1906 that Oak Bay became an incorporated municipality. Oak Bay later developed following World War II into an area of high end homes "Uplands" and expanded with the construction of more modest homes in Willows (beach front), Estevan Village and South Oak Bay neighbourhoods.
Climate:
Summer average 19 degrees Celsius
Winter average 7 degrees Celsius
Oak Bay Accommodations
Oak Bay Things to Do