British Columbia Travel Guide

The unofficial BC Travel & Tourism Guide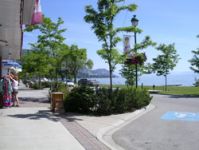 To view how wondrous Peachland truly is, visitors who like to take on a day of light hiking and trails can get the full scope from on top of Pincushion Mountain. The blocks of farmland and wineries outlined between the rolling green hills and the Okanagan Lake are breath taking. A morning out at any of the regional parks fills your lungs with sweet fresh air and gets you off to a great start!


For hundreds of years the tale of a mysterious monster, 'Ogopogo', living in the Okanagan Lake originate for dozens of sights trying to explain 'something' that tends to break the waters surface and disappear. Travelers can hear about the legend just about everywhere. You may even be so lucky as to discover just how much truth there is to the stories by keeping a sharp eye out during your stay!

Peachland is easily accessed by road during any journeys in British Columbia that may take you through Kelowna (20 min), Westbank (7 min), Summerland (20 min) or Penticton (30 min).

Population: 5,500

Highlights:
Indoor Recreation Center facility
Historic Museum
Yachting
Camping
Trail Walking 26 + parks
Kettle Valley Railway day trips
Car Shows
Triathlon
Seadoo Rentals & Waterskiing
Wine Harvest & Winery

History:
The interior of British Columbia and the areas around Peachland are part of the land First Nations inhabited for nearly 8,000+ years prior to the first European explorers. The first settlers in Peachland established The Pacific Fur Company, which was the primary development of fur trading in the area and the Brigade Trail. Following the use of the trail by the Fur traders, prospectors of the gold rush era used the trail after 1858 to gain access to the region by horseback in search of making their fortune. In 1898, J.M. Robinson laid claim to the land around the lake which he considered agriculturally viable and also operated a gold mining company in near by hills. A testimony to Robinson's vision, the area produces hardy crops and healthy vineyards annually.

Climate:
Summer average 25 degree Celsius
Winter average 1 degree Celsius
Rainfall of Twenty four centimeters annually
Semi-arid desert climate, 2,000+ hours of sunshine


For more information please visit www.peachlandchamber.bc.ca
Peachland Accommodations
Peachland Things to Do