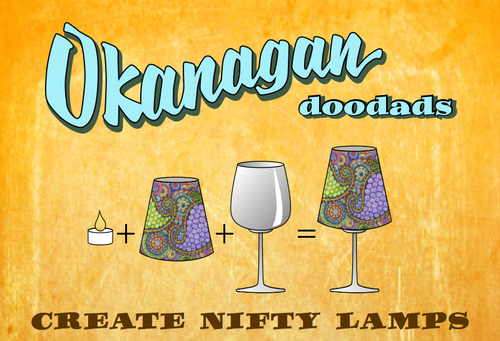 GOOD TIMES BRING HOME A MEMORY

You'll LOVE our lampshades!

Our souvenir wine glass lamp shades are the best gift for your self or your friends. They are easy to pack in your luggage because they come flat.

Just click together the lampshade, take an empty wine glass, add a tea light and you'll have the cutest little table light ever!

WEBSITE:
okanagandoodads.com

EMAIL:
okanagandoodads@shaw.ca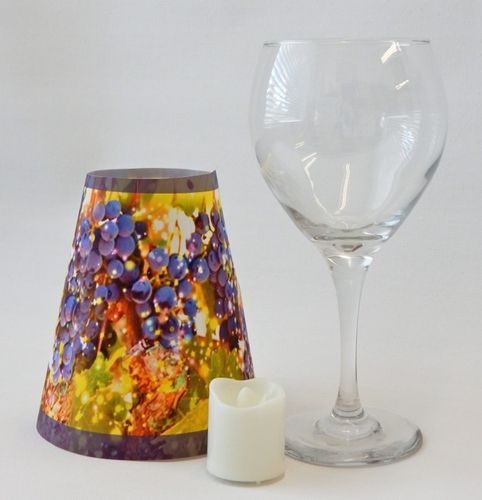 Beautifully sun dappled grapes on the vine! Cool and refreshing.

You'll LOVE this lampshade!
Just take an empty wine glass, add a tea light and you'll have the cutest little table light!

Perfect on your dining table with gourmet delights, fine wine and your favourite music. This design features a sparkling sun dappled grapevine image that we designed so when there's a tea light shining in behind a translucent lampshade, it looks fabulous!

WEBSITE:
okanagandoodads.com

EMAIL:
okanagandoodads@shaw.ca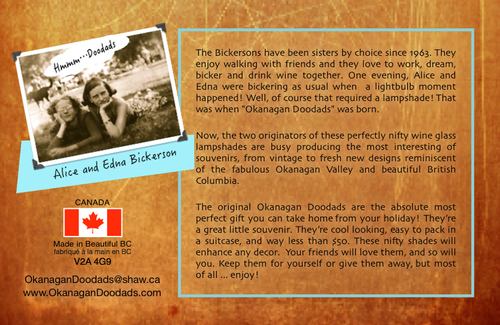 We can do custom designs for your very special occasion, they are great for wedding tables and wedding favours. Just ask us for details. We are happy to help you create a decor to be remembered.

The original Okanagan Doodads' wine shades are the absolute most perfect gift! Keep them for yourself or give them away, but most of all ... enjoy!

Our shades are NOT PAPER, they are made from Translucent 8.5 mil thick Polypropylene, brightness: 92%, opacity 78% which is a water and stain resistant matte finish (not water proof) Strong and durable, easy to clean.

WEBSITE:
okanagandoodads.com

EMAIL:
okanagandoodads@shaw.ca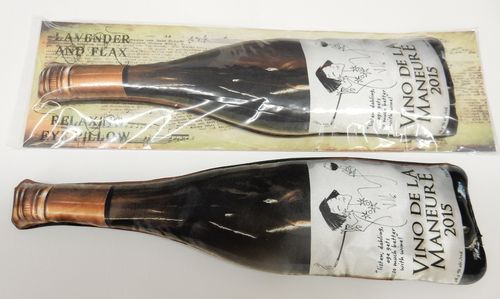 WE HAVE 3 DESIGNS CURRENTLY, one of which is... "Vino de la Manuere"

The ultra fabulous maven Luella de la Manuere has her own wine label... Her famous quote "listen dahling, age gets so much better with wine!" rings true, so we have made her wine bottle into a relaxing eye pillow, in case we 'well aged' need a little headache relief. Our gently calming, hand made eye pillow will help ease the stress of everyday tension or the dreaded wine flu.

Close your eyes... relax and inhale.... the soothing fragrance will transport you to a vinyard covered valley where you recline, dreamily floating in a sail boat on the lake. enjoy a soft breeze, and smell the warm sun gently releasing the scent of lavender.

WEBSITE:
okanagandoodads.com

EMAIL:
okanagandoodads@shaw.ca

Feel the cool weight of the flax seeds softly pressing on your eyelids. It's your moment.

Refresh yourself for a few minutes and before you know it, you'll feel revived and ready to tackle anything!

Can be warmed OR cooled if desired.

To heat this eye pillow, place in microwave for 30 seconds

To use as a cold compress, place in freezer for 30 minutes

Handmade by Okanagan Doodads

Custom designs are available, contact us for more information and pricing.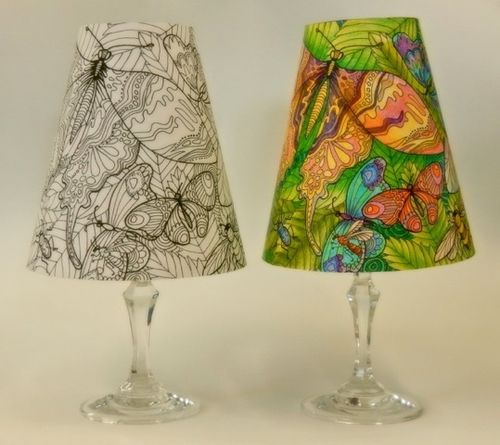 WE HAVE 5 DOODLE DESIGNS COLOUR YOUR OWN LAMPSHADES

Colour your own lampshade! It comes in black and white so you can colour it! (or, it's really pretty in Black and White)

Use only good quality coloured pencils, or wax crayons. Water based felt pens, watercolour paints or poor quality coloured pencils are not recommended.

They are safe to use with a battery operated tea light and are just so darn beautiful! You can use a chipped wineglass and give it a whole new purpose. The longer or fancier the stem, the more elegant it looks!

We can do custom designs for your very special occasion, they are great for wedding tables and wedding favours. Just ask us for details. We are happy to help you create a decor to be remembered.

The original Okanagan Doodads' wine shades are the absolute most perfect gift! Keep them for yourself or give them away, but most of all ... enjoy!

These are NOT PAPER, they are made from Translucent 8.5 mil thick Polypropylene, brightness: 92%, opacity 78% which is a water and stain resistant matte finish (not water proof) Strong and durable, easy to clean.

WEBSITE:
okanagandoodads.com

EMAIL:
okanagandoodads@shaw.ca