British Columbia Travel Guide

The unofficial BC Travel & Tourism Guide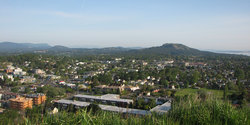 Saanich is one the largest municipalities of Victoria, British Columbia. It is both diverse in landscape as it is in industry and tourist activities. Mountain top vistas such as Mt. Douglas Park stand above the city with terrific land-to-sea view points well worth taking a camera for. The drive around Saanich is lined with hobby farms, industrial farms, dense woodlands, scenic parks, open roadways to village community centers and stops at the center of the University of Victoria. Between all the green hills and blue lakes it is certainly the opportunity to get in some great hiking, horseback riding or try kayaking.
Population: 103,654
Highlights:
Colquitz River Linear Park, Galloping Goose Regional Trail, Lochside Regional Trail, Blenkinsop Bridge Crossing, Glendale Trail and the Interurban Rail Trail.
Gyro Park Beach in Cadboro Bay, Hollydene Park and Arbutus Cove.
Dominion Astrophysical Observatory.
Things To Bring:
Be sure to remain on the trails at all times to preserve the rare and protect species of plants that grow there.
History:
Saanich, for thousands of years, was a popular summer hunting and fishing ground on the Peninsula for the First Nations Saanich tribes, which the area is named after.

In the early 1800's, Saanich developed into an area for harvesting fruits and vegetables soon after the arrival of British settlers.

Saanich is one of the oldest agricultural settlements in British Columbia. Its history and pattern of settlement is still evident in many of the old buildings and structures located throughout the district.
Climate:
Summer average 18 degrees Celsius
Winter average 5 degrees Celsius
Saanich Accommodations
Saanich Things to Do