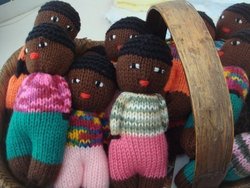 M'toto dolls (Handcrafted Children dolls).

ALL CRAFTS are bought by us from the artists in Zimbabwe, Lesotho, Malawi, Kenya, Swaziland, Laos and Thailand. Proceeds are going to SOLID, a non-profit society dedicated to support communities in Sub-Saharan Africa facing the devastation of the HIV/AIDS pandemic.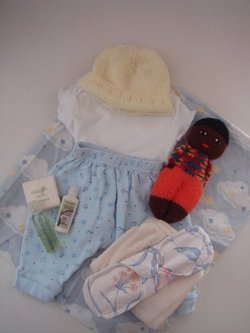 Perfect baby-shower present.

SOLID EXCHANGE is a group of concerned friends aiming to contribute to people in Southern Africa and other parts of the world in achieving an adequate standard of living.
OUR GOALS are:
1.) To raise necessary funds for already existing community-driven projects through the sale of arts and crafts from all over the world.
2.)Facilitating artisans in the South to develop and produce their crafts, and provide them with marketing outlets in North America.
3.) To fund training workshops for our partners in southern Africa.
4.) To create forums for the exchange of goods as well as ideas between Canada and the South of Africa.
5.) To establish long term relationships with our partners.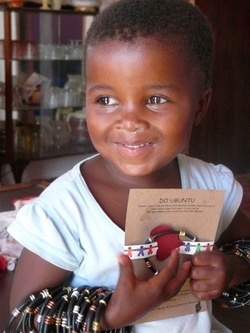 Handcrafted bracelets.

WHAT WE SELL:
As many of us are aware, there is unrelenting basic need, that an overwhelming majority of people feel on a daily basis in the Southern Hemisphere. At the same time, we are becoming aware of the immense material privilege we have in the North. One way, that we can help is through the purchase of goods produced by the artisans, made using traditional techniques, that reflect the richness of their heritage.

For example, we may purchase from Artisans in Asia, sell them in Canada and send the profit to a project in Southern Africa, where we already have successful projects, we are supporting.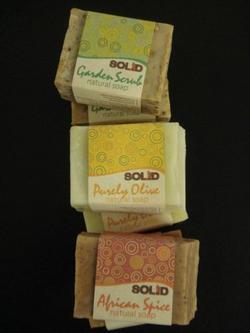 Natural soaps.

WHERE THE MONEY GOES:
Our intention is to provide income for producers as well as supporting our partners in Southern Africa. Yet, because we need money to operate, we have to set aside a certain amount for our cost of running SOLID Exchange. In most cases 50% or more of the proceeds will go to the projects we are involved in supporting and the other 50% will go towards purchase of goods and our operating costs.
Please refer to each item for info on, where the money from the sale goes to. We aim to provide our customers with as much information as possible, so you can learn, how you are creating positive change in the world.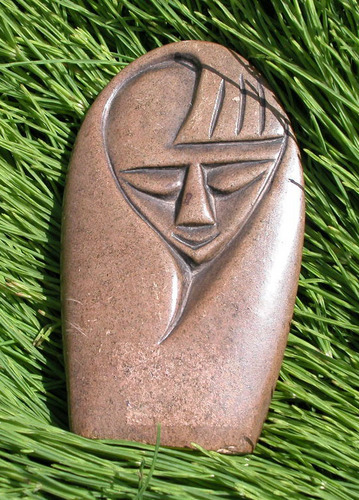 Soapstone carving, handcrafted in Zimbabwe.

OUR PARTNERS IN THE SOUTH:
Apples for Orphans in Lesotho: samsyd@telus.net
Tuendele Mbele in Kenya: maggieziegler@telus.net
Masango Cultural Canter in Zimbabwe:www.masangodema.org
Phelisanong in Lesotho: info@solidsaltspring.com
Sala Hantle in Malawi: acallegari2003@yahoo.com
Agnes Pareyio in Kenya: ccole51@telus.net
Kambhoke Orphan School in Swaziland:ccole51@telus.net