British Columbia Travel Guide

The unofficial BC Travel & Tourism Guide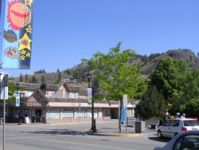 Settled beneath an ancient volcano, Giant Head Mountain who stands dormant and majestic, is a powerful symbol of the Summerland and its residences, is a pristine valley spattered with lakes, rivers, parklands, rolling hills, and vineyards. The characteristic charm of the Tudor Style architecture in the city centre allows for complete relaxation and shopping. Pick up on a wine tour, kayak around the lake in pure sunshine, or plan a day of trail blazing! Summerland blends abundant fruit orchards among the ponderosa pines with a thriving rural lifestyle enjoyed by travelers who retreat here each year.


The forests are also home to variety of wildlife such as; bobcat, cougar, black bear, deer, coyote, elk and big horn sheep to name a few. Summerland is known as a wilderness photographers play ground, be sure to bring your own camera!

Summerland is widely known, also, as a reputable contender in the British Columbia wine producing region. The landscape and nooks of the hills, along with mild weather, provide the perfect growing conditions. Be sure to sample the local fare at restaurants and at the wineries (during operating hours).

Population: 11,200

Highlights:
Kettle Valley Steam Railway
Wineries
Shops and Galleries
Summerland Ornamental Gardens
Museum
Country/Farm & Craft Markets through the summer months
Agricultural Harvests:
Apples - Late April/September
Apricots - Mid April/Late July
Cherries - Late April/Late June
Peaches - Mid April/Late July
Pears - Late April/Mid - August
Prunes/Plums - Mid April/Mid August

Climate:
Summer average 22 Celsius
Winter average -3 Celsius
Summerland Accommodations
Summerland Things to Do