Thursday Apr 11, 2013 - Sunday Apr 14, 2013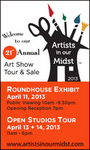 Our Open Studio Walk invites you to enjoy the diverse creative talents in our community by visiting artists in their studio settings. Explore the stories behind the art and artists. Design your own tour using our online map and artist information at www.artistsinourmidst.com.
OPEN STUDIOS
Saturday, April 13: 11am - 6pm Sunday, April 14: 11am – 6pm
Artists In Our Midst also invites you to join us at our free annual and very popular Art Exhibition and Sale at the Roundhouse Community Centre in Yaletown.
THE ROUNDHOUSE EXHIBIT
Thursday, April 11
Public viewing: 10am - 9:30pm Opening Reception: 7pm – 9:30pm
Roundhouse Community Arts & Recreation Centre
181 Roundhouse Mews, Vancouver
"Artists in Our Midst" is proud of its contribution to Vancouver's lively art scene. We look forward to celebrating our 21st Anniversary with you this year!
Participating Members:
Please click on the member name to get more information.
Click on Artists in our Midst - Open Studios - Booklet to print this tour as a PDF file. (Adobe Acrobat reader is required to print this file)

Other Participants:
Michael Abelman, Barbara Arnold, Lesley Bohm, Barb Bowlsby, Lothar Buchmann, Lily Chandra, Jackie Conradi-Robertson, Zohar Fiszbaum, Ann Hilton, Louise Howard, Pher Killips, Susanne Kestner-Aiello, Jean Lee, Lord Byng Mini Arts School, Nadine Marshall, Yolande Morin, Lauren Morris, Gina Sarro, Linda Schmidt, Jon Shaw, Peter Sickert, Camille Sleeman, Michael Stunden, Lorraine Thomson, Olga Turok, Martin Vseticka, Louise Weir, Sigrid Wittmann, Cheng-Yen Benson Wu, Rosana Wu, Jane McDougall;
Contact Info: