Saturday Aug 25, 2012 - Sunday Aug 26, 2012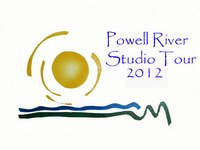 10 am to 5 pm
from Lund to Lang Bay Powell River, BC
The Powell River Studio Tour is an annual self-guided tour of artists and artisans on the Upper Sunshine Coast of British Columbia(BC) that is free to the public.
2012 marks the 8th year of the Tour that showcases individual artists and galleries in 20+ locations from Lang Bay to Lund. Visitors will see the diversity and excellence of the art community in the Powell River region and, as an added bonus, the spectacular natural beauty that can be enjoyed along the way.
A free colour brochure and map will be available in early July at various venues, including Artique Artists' Co-op and the Tourism Powell River Visitors Centre.
Participating Members:
Please click on the member name to get more information.
5
Vi's Art, Vi (Violet) Isaac


#28 – 5455 Borden Place, Powell River, BC

6



Padgett Road, Powell River, BC

9
Artique Artists Cooperative


4722 Marine Ave., Powell River, BC

11
Power of Two Fine Art Studio, Gail McMahon


6952 Invermere Court, Powell River, BC

15
Among Friends Studio, Alfred Muma


2632 Maywood Rd, Powell River, BC

16
Fern Hill Art, Donna Vance


2744 Zilinsky Road, Powell River, BC

17
Down to Earth Clayworks, Brenda Neall


2107B Mahood Road, Powell River, BC

19
Ursula Medley Fine Art, Ursula Medley


10989 Dunlop Rd., Powell River, BC

20
Crystal Magic Designs, Amanda Martinson


Lang Bay Community Hall, 11091 Hwy 101, Powell River, BC

20
Salish Sea Silver Designs, Karin Birch


Lang Bay Community Hall, 11091 Hwy 101, Powell River, BC

21
Ravenbeak Natureworks, Jamie MacDonald


2257 Lang Bay Road, Powell River
Click on Powell River Studio Tour - Booklet to print this tour as a PDF file. (Adobe Acrobat reader is required to print this file)

Other Participants:
1 Jan Lovewell & Ron Robb, 2 Lea Mabberley, 3 Powell River Fine Arts, 4 Helene Nissle, 5 Vi Isaac, 6 Joyce Furness, 7 Charlie Dickson, 8 STUDIO THREE, 9 Artique Artist Co-Op, Richard Benson, 11 Gail McMahon, 12 Paul Paiero, 13 Gina Page, 14 Mud In The Sticks, 15 Alfred Muma, 16 Donna Vance, 17 Brenda Neall, 18 Maggie Poole, 19 Ursula Medley, 20 Lowell Morris, Amanda Martinson, Karin Birch, 21 Jamie MacDonald;
Contact Info: