Saturday May 18, 2019 - Sunday May 19, 2019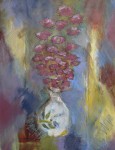 Saturday May 18 & Sunday May 19
11pm to 4 pm daily.
Artists within the area bordered by Mt. Doug, Swan Lake, Blanshard, Hillside and Shelbourne" invite you to come and discover the many treasures they have created throughout the year. There are all sizes & styles of paintings, pottery & sculpture, stone & glass art, fiber art, gourd designs, vintage image restoration & jewellery as well as art cards & calendars - and some delightful surprises. We have 14 artists this year with only 4 venues to visit!
On tour days, look for the bright lime green signs throughout the community.
Everyone is welcome to this free, self-guided event!
Thank-you to our 2019 sponsors:
Richard Acomba, ReMaxRealtor
Fig Deli
Scott Acomba, Contracting/Development
Kim Kissinger, Royal LePage Realtor
Participating Members:
Please click on the member name to get more information.
1
Linda Butcher


4052 Malton Ave., Victoria, BC

1
Lois Kissinger


4052 Malton Ave., Victoria, BC

2
Anne Bowen


3735 Ascot Dr. Victoria, BC

2
Lynn Jones


3735 Ascot Dr. Victoria, BC

2
Bob Fahlman


3735 Ascot Dr. Victoria, BC

3
claire christinel


3390 Maplewood Road, Victoria BC

3
Nancy Dolan


3390 Maplewood Road, Victoria BC

3
Victor Crapnell


3390 Maplewood Road, Victoria BC

3
Maplewood Stained Glass Designs, Joanne McGachie


3390 Maplewood Road, Victoria BC
Click on Victoria / Saanich Scattered Artists Studio Tour 2019 - Booklet to print this tour as a PDF file. (Adobe Acrobat reader is required to print this file)


Contact Info: