Friday Jul 08, 2016 - Sunday Jul 10, 2016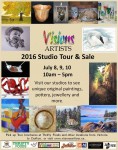 Visions artists and artisans invite the public to visit and shop at their studios during the 2014 Visions Summer Art Studio Tour from July 8 to 10, 2016, open 10:00am to 5:00pm.
Studios will open, some of them with guests, so that artists will show, demonstrate and sell their work during the summer event.
The tour will take people through the enchanting Cowichan Valley to charming rural properties and gardens, impressive ocean-front locales and country roads they had never before seen and will never forget.
All these artists' studios are open year 'round, some by appointment, but during the Studio Tour all Visions artists taking part in the tour will have their studios open at the same time to present their newest works. You can be among the first to view, enjoy, browse and shop.
Participating Members:
Please click on the member name to get more information.
1
Wistle's Art


2423 Mill Bay Road, Mill Bay, BC

2
Neil Fatin


1213 Royalta Rd. Mill Bay, BC

2
Glass Art and Wearable Art, Terry Harrison


1213 Royalta Rd. Mill Bay, BC

2
Wildflower Art Studio, Bev Robertson


1213 Royalta Rd. Mill Bay, BC

4
Karen Bottcher, Karen Bottcher


3580 Arbutus Dr. N, Cobble Hill, BC

7
Michele Heath


4373 Kingscote Road, Cowichan Bay, BC

8
Artist, Painter, Carolyn McDonald


4407 Kingscote Road, Cowichan Bay

11
Sue Coleman Studio, Sue Coleman


5378 Gore Langton Road, Duncan, BC

12
Heartwood Studio


5846 Curry Road, Duncan
Click on Visions Art Studio Tour 2016 - Booklet to print this tour as a PDF file. (Adobe Acrobat reader is required to print this file)

Other Participants:
Cher McKittrick
Lorna Robertson
Lorraine Mary Hawe
Kathy Curry Hill
Kmit
Tyler Hayes
Joan Tuff
Beverlee McLeod
Edie Miller
Rosemary Danaher
Penny Jones
Nathalie Mansey
Charlotte Haggart
Joanne Kimm
Laurel Hibbert
Roger Jackson
Lyndsay Hunley
Carol Borrett
Contact Info: