British Columbia Travel Guide

The unofficial BC Travel & Tourism Guide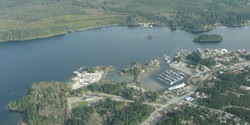 The Pacific Ocean's temperament and immense scenic settings create a natural paradise only known to the rugged shores of Ucluelet. The Nuu-chah-nulth First Nation named this place 'safe harbour' / 'safe landing place'. The Ucluelet village is snuggled into the inviting rainforest dwelling which offers rare glimpses of the surrounding hardy red cedar and old-growth forest. This moving and awe inspiring landscape reveals its magic to visitors moment by moment.


The wildlife inhabitants of its shores rely on the changing seasons and tides to survive. In the sea live; salmon, cod, halibut, shellfish, sea lions, seals, orca and grey whales. This abundance of sea food creates a vibrant eco system and a mainstay for the local fisher man and the original First Nations tribes who did, and still do, live along Ucluelet and the surrounding islands.

Whether visitors choose to walk the sunny beaches or watch the storms during February from a sheltered spot, the real adventure is just to be here. Those who want to indulge and take things one step further can engage with these wondrous places by kayaking, hiking, nature trails and tours, whale watching tours, nature cruises, sport fishing, surfing, and diving which will break the surface of imagination.

Plan to visit Ucluelet by automobile (driving the scenic highway route from ferry terminals in Nanaimo or Victoria), private charter, float plane or by airplane.

Population: 1,753

Highlights:
Pacific Rim National Park
Outdoor Adventures
Storm Watching (Feb)
Barkley Sound and Broken Group Islands, reefs and shipwrecks.
Galleries of local artists work
The Old-growth forests
Guided Fishing Charters
Ocean Kayaking or Canoeing scenic coast line
Wild Pacific Trail & Amphitrite Point
Whale Watching

History:
Legends of living off the land since the world began were told by the Nuu-chah-nulth First Nations, whose historical remains have been determined by archaeologists to only have dated back approximately 4,300 years ago.

Their lives revolved around what the sea and land provided for food and shelter. From the ocean they harvested salmon and shellfish seasonally. Large cedar trees provided the materials for tools, weapons, canoes, clothing and lodging. It should be noted that the First Nations members wasted little and put to use everything they collected.

After the Europeans arrive in the late 1700's, they too would discover the environment's rich abundance and adapt their livelihood and new found resources to their plans of expanding in the fur-trade, whaling, and fishing. In the 1880's, the Suttons built the first general store and sawmill. And then with the discovery of gold in Wreck Bay more settlers arrived yet the commercial potential was impractical.

Since, the area has thrived on mining, canneries, forestry, fishing and today it has become one of Vancouver Island's premier destinations for tourism.


Climate:
Summer average 19 degrees Celsius
Winter average 3 degrees Celsius


For more information please visit www.uclueletinfo.com
Ucluelet Accommodations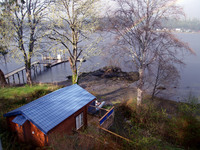 Two cozy waterfront cabins and a one-bedroom waterfront suite on half acre property on Ucluelet Harbour. Very private & romatic! Close to the Wild Pacific Trail, Long Beach & all amenities in town.

Ucluelet Things to Do