British Columbia Travel Guide

The unofficial BC Travel & Tourism Guide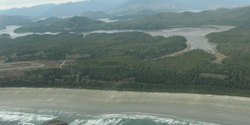 Pacific Rim is located on the edge of the West Coast on Vancouver Island and the Pacific Ocean. It consists of three geographically separate areas including Long Beach, the Broken Group Islands and the West Coast Trail covering an area of 51,077 hectares.

Its moderate maritime climate (cool foggy summers, mild wet winters) and the a bountiful and diverse intertidal zone are the basis for a diverse marine wildlife and the growth of temperate rainforests, dominated by coniferous tree species such as Sitka Spruce, Western Hemlock and Western Red Cedar.

The Long Beach Unit
is best-known for its long sandy beaches and the most easily accessible unit of Pacific Rim National Park Reserve. Long Beach is located between the villages of Ucluelet and Tofino. There are several campgrounds and resorts in the area and lots of easy hiking trails. Each spring over 20,000 grey whales migrate through the park waters. Visit the Wickaninnish Interpretive Centre that focuses on the natural and cultural heritage of Pacific Rim National Park Reserve at the end of Wick Road.

The Broken Group Islands
consists of more than one hundred islands and rocks scattered throughout Barkley Sound on the west coast of Vancouver Island. They are accessible only by boat. Explore sheltered bays, exposed reefs, densely forested islands and bare, wind-swept rocks. A kayaker's paradise!

The West Coast Trail
is an internationally renowned 75km(47 mile) historic backpacking route along sandstone cliffs, waterfalls, caves, sea arches, sea stacks and sandy beaches. Originally established in 1890 as a life saving trail for shipwrecked mariners it follows a rugged shoreline. Over 66 ships have met their demise along this stretch of the "Graveyard of the Pacific".

Population: 5,000+

History:
The Pacific Rim National Park, a portion of western Vancouver Island, was populated for centuries by the Nuu-chah-nulth people. Examples of their history is well documented in the museums of Vancouver Island, plus their First Nations celebratory totems are part of the regions symbolic history. The natural surroundings provided the materials and food sources sufficient to sustain a deeply rich, spiritual culture. West Coast Cedar allowed them the ability to construct planks for long houses, temporary shelter, wooden canoes to cross the ocean waters to other islands, and the dense foliage provided seasonal berries, roots and weaving materials. The animals (deer, bear, cougar), fish (salmon, trout), sea life (seals, sea lions, porpoise, whales), and foul (over 100 varieties) were an ample food source whose remains also were used as bone tools, spear heads, and weaving material.

Climate:
Summer average 16 degrees Celsius
Winter average 5 degrees Celsius
Tofino - Ucluelet - Pacific Rim Accommodations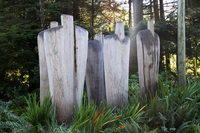 Tofino Botanical Gardens & Ecolodge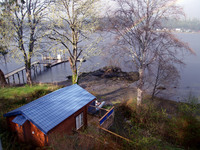 Two cozy waterfront cabins and a one-bedroom waterfront suite on half acre property on Ucluelet Harbour. Very private & romatic! Close to the Wild Pacific Trail, Long Beach & all amenities in town.

Tofino - Ucluelet - Pacific Rim Things to Do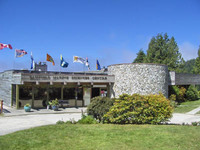 Come Experience the Magic of BMSC