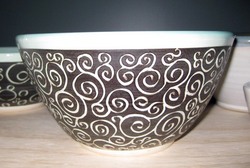 Pottery:
Much of my work is function based as I lean to the practical side. The design industry has definitely affected my aesthetic senses for colour and shape as well as decoration. I either create items with a modern feel using clean lines and simple shapes as seen in my vases and bowls, or I play into more ornate patterns and textures, altering the forms with quirky swirls or embellishments.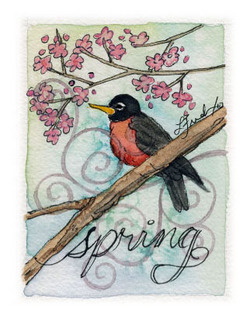 Greeting Cards:
This card series includes six images that are taken from my birds series of water colour paintings and are printed in actual size (about 3" x 4" image area). They are printed on a soft satin finished card stock and are blank inside. The card size is 5" x 7", envelopes are included and each is protected by a clear cover envelope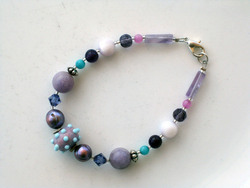 Jewelry:
I have recently redefined my definition of what it means to 'make jewelry'. It seems divided into two schools of thought, those that 'bead' and those that 'make'. I do a bit of both:
A - Beading jewelry entails buying pre-made supplies, stones, pearls, beads and findings and stringing them together in an arrangement that pleases. In theory anyone can bead, but it takes technical skill and a keen eye for style and colour to do it well.
B - Making jewelry actually means you fabricate some or all of the components from scratch. As in you buy the raw metals and materials and actually 'make' it yourself. For example, cutting the silver wire and shaping it into the earring hoop and the pin for the lampwork bead that it will suspend.