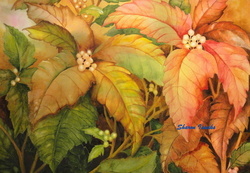 " Gloriosa"
Watercolor on Art Board
Size 16 X 20"
With the Poinsetta in mind,
I created this painting by
poring the paint on the
background, and developing
the negative spaces throughout.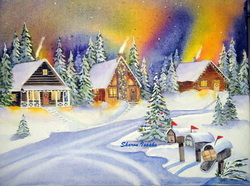 "We Have Mail Today"
Watercolor on Canvas.
11 x 14
Winter is always a challenge
and I love painting cabins.
This became my Christmas Card.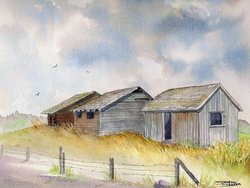 "Cariboo's Past"
Watercolor on Paper
11 x 14

Some of the few buildings that remain in the South Cariboo,and are destined
to disappear.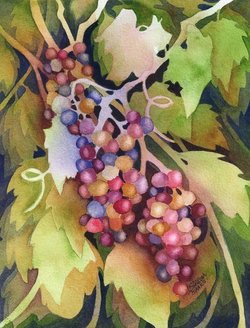 "Wine on the Vine"
Watercolor on Paper
8 x 10

Another negative approach to watercolor painting.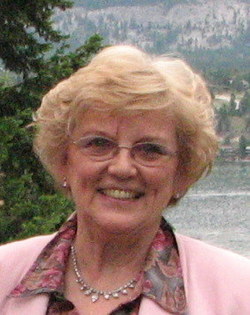 My love for gardening and outdoor like keeps me motivated to paint. I have attended numerous workshops, and Emily Carr Institute of Art & Design.
In 2001, I retired to the country life in the South Cariboo of B.C. In July 2006, I opened my own "True Colors Art Studio, located at the west end of Horse Lake,B.C.
Since then a number of students have enjoyed my classes. I have now moved to
Vernon, B.C in the lovely community of Desert Cove. Lessons, and workshops will still be offered.