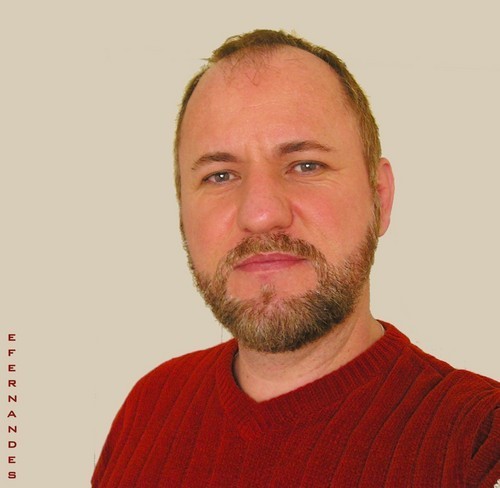 My name is Edmir and I am here to Connect You to my World of Colours through EFernandes Visual Arts. I believe nature is of utmost importance to us human beings. "She" is precious as its colours and freshness, bringing us serenity and connecting ourselves to this world. This is simplicity, beauty and presence in our lives.

I am a visual artist who desires for simplicity in the colours of my canvases. I don't start a painting with a preconceived idea; however, I let myself be led by my inspirations for oils and acrylic paints. I feel gifted with my talent to paint; as a result, I commit myself naturally and with a reason -- to share with you my touch of humanity through colours.

Please keep in touch and check it out for yourself. Feel free to request a friendly visit to EFernandes Studio (See Contact Us page).

Enjoy and please leave your feedback because I am committed to quality work and to serve You better.


Artistically Yours,


EFernandes

Please visit online: www.efernandes.ca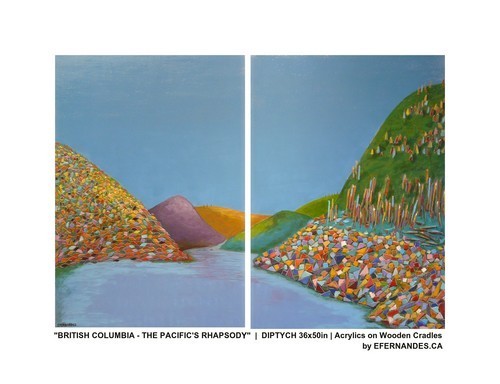 TITLE: "BRITISH COLUMBIA – THE PACIFIC'S RHAPSODY"

ARTIST: FERNANDES, EDMIR ("EFERNANDES")
DIMENSIONS: 36x25 in (91.5x63.5 cm) - each side
MEDIUM: Acrylics on Wooden Cradles
CODE: 0112-A

This is an open land where your spirit will marvel at the colours of nature. This painting represents a very special place where the blue of the sky matches with of the ocean; where the green forests are deep and the silver rivers bountiful. This is the land you have been looking for and you have found it. Explore it, love it, and share it with passion! This is your land: Beautiful British Columbia – The Pacific's Rhapsody. This painting is part of an ongoing series called "Nature in Colours", in which the artist have adopted the mosaics to conceive and express his ideas in paintings - a very unique style created to Connect You to the World of Colours, as well it is part of EFernandes' logo. Each of the pebbles may represent a different conception to each viewer; such as houses, flowers, stones, the colourful diversity of British Columbia and Canada. It also represents the closeness of mankind and nature in its contrasts and its harmony at the same time. It is respect and reflection that should take place at all times to signify our genders, races and other cultural factors. Whenever our interaction with Mother Nature is smooth we automatically visualize and adopt substantial creativity, as we are unique and innovative. In the artist's view it is important to cultivate a livable environment on a continual basis to help us create a more enjoyable community – The one we love.

C'est un pays ouvert où ton esprit s'émerveillera des couleurs de la nature. Cette peinture représente un endroit exceptionnel où le bleu du ciel rejoint l'océan, où les vertes forêts sont profondes et les rivières d'argent généreuses. C'est le pays que tu cherchais et tu l'as trouvé. Explore-le, aime-le, partage-le avec passion ! C'est ton pays : La magnifique Colombie Britannique – La Rhapsodie du Pacifique ! Ce tableau fait partie d'une série en cours de réalisation appelée « la Nature en couleurs » dans laquelle l'artiste a adopté la mosaïque pour concevoir et exprimer ses idées dans les tableaux- un style unique créé pour Vous Connecter au Monde des Couleurs. De plus cette idée est présente dans le logo de EFernandes. Chaque galet peut avoir une interprétation différente selon la personne qui regarde. Ils peuvent être des maisons, des fleurs, des pierres, la diversité colorée de la Colombie Britannique et du Canada. Ils représentent aussi la proximité de l'homme avec la nature, à travers les contrastes et l'harmonie en même temps. Ils mettent en évidence le respect et la réflexion qui devraient tout le temps aider à comprendre notre singularité et notre culture. Une douce interaction avec notre Mère Nature favorise notre créativité, et fait de nous des êtres uniques et innovateurs. Dans l'esprit de l'artiste, il est important de cultiver constamment un environnement favorable qui puisse favoriser le bien-être de notre communauté - celle que nous aimons.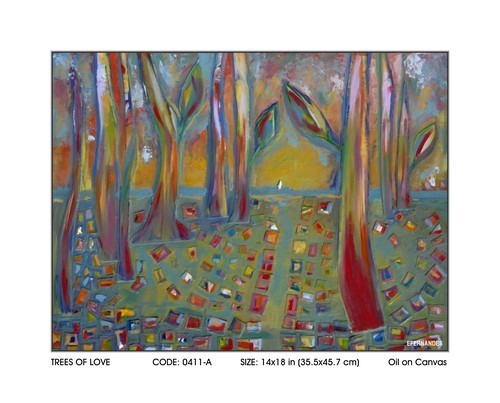 "TREES OF LOVE"
Code: 0411-A - Oil on Canvas
Size: 14x18 in (35.5x45.7 cm)

"Trees of Love" has been juried by the official jurors of Sooke Fine Arts 2011 and have been accepted for exhibition in the show at SEAPARC LEISURE COMPLEX at Sooke, BC.

"TREES OF LOVE"
In the Garden of Life the Trees of Love grow. It is the haven of peace you have been looking for since you were born. It is the quiet place you were seeking when you were cold or angry, when you were down or tired, when you thought the next day would always be better, and knew the future was full of hope. You have approached the light day after day; you have found friendship, love, and confidence. You have experienced faith, knowledge, humanity…You have walked the path and reached the heights of your inner self. Now everything within you is good, and you are heading towards the radiant mystery of the infinite…

Les Arbres de l'Amour
Dans le Jardin de la Vie poussent les Arbres de l'Amour. Ils sont le havre de paix que tu recherches depuis ta naissance. C'est l'endroit paisible que tu désirais quand tu avais froid, quand tu étais triste ou fatigué, quand tu songeais que les lendemains seraient toujours plus beaux et que tu savais que le futur serait plein d'espoir. Tu as approché la lumière jour après jour, tu as trouvé l'amitié, l'amour et la confiance. Tu as fait l'expérience de la foi, de la connaissance, de l'humanité. Tu as parcouru le chemin et atteint les sommets de ta personnalité. Maintenant tout en toi n'est que beauté et tu te diriges vers le mystère radieux de l'infini…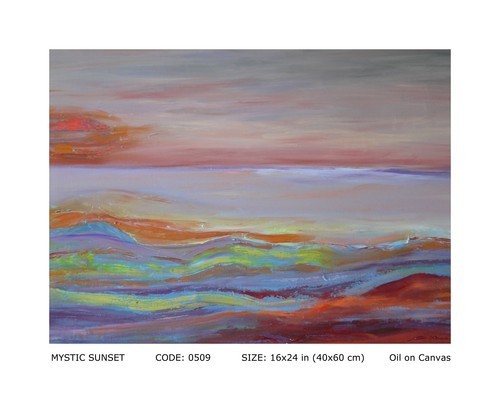 "MYSTIC SUNSET"

"Mystic sunset offers the viewer unlimited space and unrestrained time. You are free to place yourself in relation with it and go wherever you like. Then soon you will like wherever you go, whether you choose the freshness of the waves in blue or the warmth of the air in red. Whatever your eyes focus on, you will feel harmony with the elements and let go. And when you look up to the horizon, you will find Truth .The less said the better…"

"IMAGINE"

Imagine que l'Intelligence humaine reconnaisse comme la Grâce absolue la Beauté de la Nature et la Valeur de la Vie, et la vénère en tout lieu et tout temps…
Imagine que les abondantes ressources de la Terre soient respectées et conservées précieusement pour les générations futures…
Imagine que la Paix soit inscrite dans le cœur de chaque être humain pour toute sa vie, et que la Liberté vienne transcender chaque existence…
Imagine que la Dignité soit accordée à chaque enfant et à chaque homme ou femme qu'il deviendra…
Imagine que l'Etude et la Connaissance partagées rapprochent les hommes, que les Prières à leur dieu les rendent meilleurs et que l'Amour et la Fraternité soient reconnues comme les plus grandes richesses de l'Homme sur Terre…