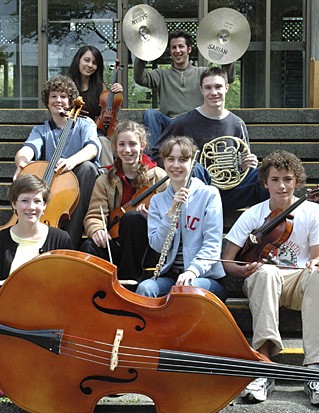 Our Mission:

* To affirm and nourish the love of music in young people
* To challenge young orchestral musicians to achieve the highest standards of instrumental competence and musical performance that are attainable
* To teach commitment, discipline, cooperation and responsibility through rehearsals and performances
* To pass on a depth of musical understanding through inspired musical direction and leadership
* To foster the development of future audience and supporters of the arts

Our young musicians thrive under an intensive program of rehearsals, workshops and concerts drawing audience members each year, eager to experience inspiring and exciting performances of symphonic masterpieces. All concerts are at the University Centre Farquhar Auditorium.
FROM THE CRITICS
"And a fine performance it was; [Dvorak's Symphony no. 9] is hardly easy music, technically speaking, and presents numerous significant challenges, through all of which Sándor guided his youthful musicians skillfully and tactfully"...
Dreyk Barker, Times Colonist
Victoria November 18, 2002

"Yariv Aloni and his youthful players closed the concert with a first-rate performance of the [Schumann Rhenish] symphony; in fact I've rarely heard a performance in which each of the five movements was so equally well argued."
Deryk Barker, Times Colonist
Victoria April 14, 2003
SEASON HIGHLIGHTS

November 23, 2003 Sunday 2:30pm
János Sándor, Conductor
MOZART - TCHAIKOVSKY

February 28, 2004 Saturday 8:00pm
Yariv Aloni, Conductor
SCHUBERT - BIZET - SIBELIUS

April 18, 2004 Sunday 2:30pm
János Sándor, Conductor
ELGAR

SEASON TICKETS
3 GVYO concerts - Adult $42, Senior $30, Student/Child $22
Available only from the GVYO office (250-360-1121) until October 1, 2003.

SINGLE CONCERT TICKETS
Adult $16, Senior $12, Student/Child $8
Available from the GVYO office (250-360-1121), Ivy's Bookshop, and McPherson Box Office Outlets.