Silver and nature have always held an attraction for me. I weave, texture and form silver creating wearable art that adorns the body, feeds the soul and provides organic energy reflecting my connection with nature and my passion for artistic pursuits. I am concerned not only with appearance, but also with touch and form.

My mathematical background has influenced the distinct designs in my drawings and etchings on copper and impressions in silver. Logarithmic spirals found in nature, such as ammonite fossils, shells, and sunflowers, inspire me and are a constant theme in my work. I create all of my pieces by hand so they are individual and unique.

Perhaps the most important thing is I love doing what I am doing.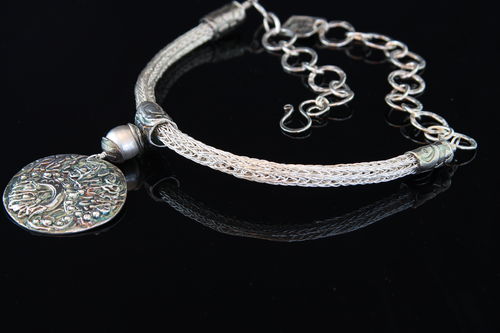 "Silver Layers" Layers of fine silver are suspended from my handwoven Viking Knit with a hand-drawn fine silver bail. Fused silver rings allow for different lengths. I love the use of liver of sulphur to create different patinas with my silver.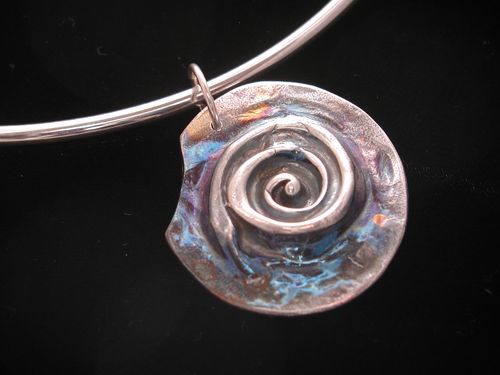 "Signature Shell" Logarithmic spirals are found so many places in nature such as in this shell spiral. I find the ocean a constant inspiration in my art. The patina I use is always different and individual for each piece.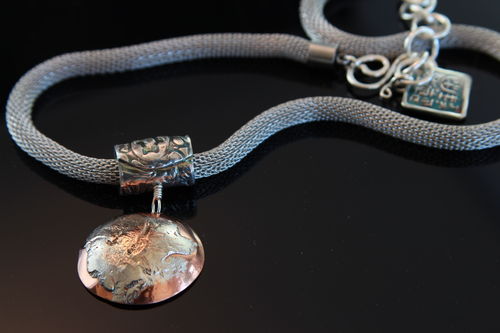 "Floating Moon" Fusing silver on copper produces a reticulated effect that is organic in nature. Each pendant pleasing and individual - it is a constant delight for me to create these pieces. This "moon" is suspended from mesh with my hand-drawn silver bail.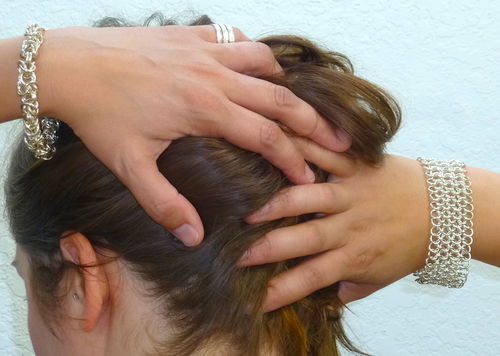 "Byzantine and European 4-in-1" I weave fine silver and sterling silver various ways. These two bracelets illustrate different chain maille weaves. This model is also wearing one of my sterling silver triple wrap rings.