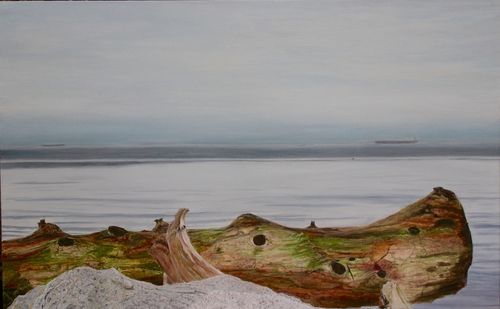 The Straight

30"x48" Acrylic on Canvas, Sept 2016
Robin Kirkpatrick, Oak Bay, BC

This bright piece adds vibrancy to any room. It contrasts the foggy well traveled straight with the sharply detailed foreground.

The inspiration for the piece was the power of the serene calm and vivid foreground witnessed on the beach.





Smiles

16" x 20"" Oil on Canvas, 2012
Robin Kirkpatrick, Oak Bay BC

There is nothing more heart warming then the smile of a happy child. This painting is a recent commission for a family in Alberta.
.


Notan

70 cm x 90 cm Acrylic Canvas Collage , 2012

Robin Kirkpatrick, Victoria BC

This work was created from one single rectangle of canvas. It is a very a lively and moving piece but at its core is purely Notan in nature. Complex yet very simple... equally black and white... active both in and out


Inspiring Sole" - Right Shoe

16x20 Oil on Canvas, 2010
Robin Kirkpatrick, Victoria BC

Ahh, running, jogging, or just plain walking... This work is a salute to those nasty running shoes that sit by the door patiently but incessantly reminding you about that date with good health you have neglected to keep....

Yes, both shoes were painted.