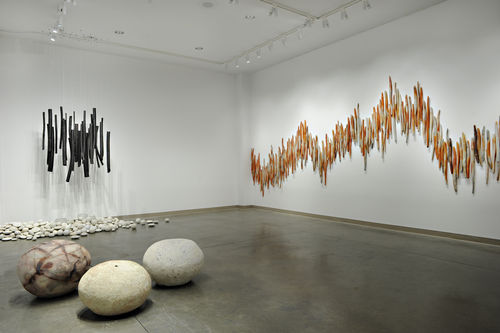 'Viveka', 2017

This immersive ceramics installation of 550+ components uses visual and audible patterns to call attention to space and silence. Viveka can be translated to: the radiance of discernment. Conceptually, this project is fueled by a curiosity about philosophy, neuroscience, and the brain, particularly the patterns of the mind, as well as the place of stillness within our current culture of continual movement.

This project was funded by a BC Arts Council Grant, and was on public exhibition at Seymour Gallery in North Vancouver in March/April 2017.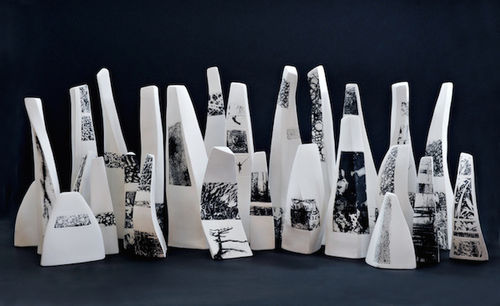 'Urbanscape' 2014

Working with high fire porcelain, form and surface are informed by photographic details taken from across the globe. The work explores notions of urban and natural landscapes, through undulating organic architectural forms, implied textural details, and the creation of a visual narrative through the use of multiple components.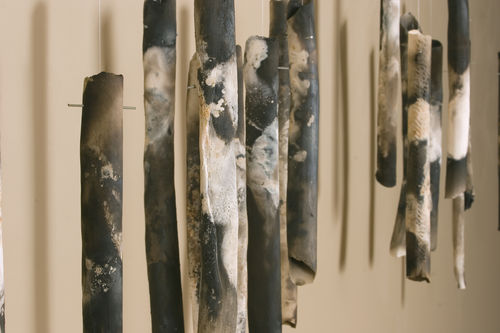 "The Living Road', detail. 21 pipes, approximately 24-30"ht. 2005

The installation consists of 107 components that are scattered on the floor, piled in a corner, suspended from the ceiling, and hung on a large horizontal span of wall. 'The Living Road' is an exploration of the relationship between organic topographies and discarded industrial forms that are being reclaimed back into the earth . The work was funded by a creation grant from the Yukon Arts Fund and has been exhibited in Whitehorse YT, and Nanaimo BC.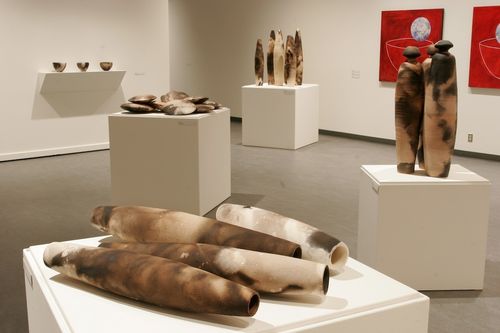 'Elusive Containment'. 2006.

The exhibit is a body of 56 wheel-thrown and hand built, smoke fired sculptural forms that responded to a curatorial thesis of the body as a vessel; and more specifically my exploration of how the visible and the invisible converse within the vessel form. This project was funded by a creation grant from Canada Council, and exhibited in Whitehorse YT, Nanaimo BC, and Castlegar BC.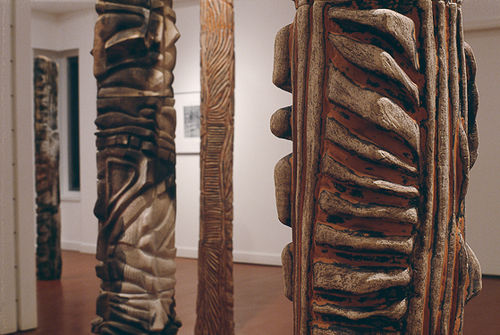 'Stand', detail. 10 towers. 3-7ft tall. 2004.

Each tower is carved, rust glazed and smoke fired. The work explores the duality of birth and decay, and the reclamation of all that exists back into the earth. This project was supported a grant from the Alberta Arts Fund, and exhibited in Dawson City YT; Edmonton AB; and Campbell River BC.