Welcome to
Steve Kergin's
Contemporary Symbolic Landscapes


Born in Victoria, B.C., Canada in 1954, Steve Kergin has pursued a career in Illustration and Graphic Design for many years. Educated at the Kootenay School of Art in Nelson, B.C., Steve is now concentrating mainly on his own personal art in Colwood near Victoria where he shares a home-based studio with his wife, Lee (Lowther) Kergin, also a visual artist.

Steve views art as a fundamental form of communication that allows an artist to express a unique inner vision that reflects the experience of many people.

"My work represents an exploration of how, in the 21'st century, contemporary people interact with the natural rhythms of our world. I express my observations through images which appear fairly natural but are actually highly symbolic and stylized in subject matter, colour usage and presentation. My goal is to produce art which is thought provoking and visually stimulating for a wide audience."

"Through these images I hope to communicate my insights and enduring optimism that, collectively, we can find positive solutions to our problems and can rise above our challenges to a higher understanding of our human potential."

"Thanks for visiting. It's gratifying to be able to share my work with you in this way."



"Venus Waits"

Spheres slowly spinning
Earth and Moon in spiral dance
Venus waits alone


© Steve Kergin 2002
Approx 40" x 15"
Watercolour and Gouache on Illustration Board

Private Collection

Copies Available



"Ripples"

Ripples on water
We travel our given road
Leaving few traces


© Steve Kergin 2000
Approx 40" x 15"
Watercolour and Gouache on Illustration Board

Private Collection

Copies Available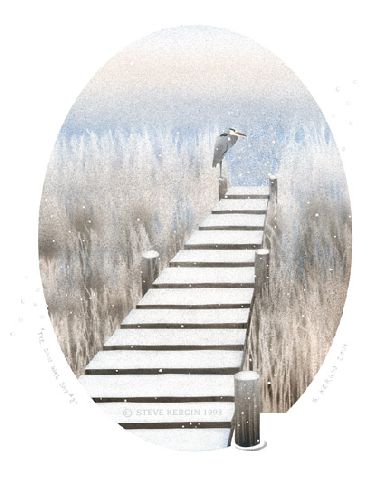 "The Sun Was Shy #2"

Heron sits on wharf
No fish are rising today
The sun has been shy


© Steve Kergin 1998
Study For
Finished Painting "The Sun Was Shy That Day" Approx 40" x 15"
Watercolour & Gouache on Illustration Board

Private Collection

Copies of Study Available



"Transition"

Searching our past for evidence of progress we make our way forward, moving with an irresistible rhythm towards the future, scanning the constantly changing horizons as we go.


© Steve Kergin 1996
Approx 26" x 14"
Watercolour and Gouache on Illustration Board

$800.00 Can