My inspiration comes from absolutely everything, although I do have a passion for cats, and birds. At least that's one of my 'phases' right now. As an artist we can have these 'phases' and then move on to a new one when we feel like it….and that's part of the journey, the excitement, of always changing and growing, like life.

Being mostly a self-taught artist, I have derived much of my inspiration from the 'Group of Seven', the French Impressionists, and Picasso. I delight in dobs of colour to create a whole, and the interplay of light on a subject. I play with all different styles.

I had an amazing opportunity a few years ago and attended an art program for two years in Toronto at Central Technical School. It was here that I learned about my love of printmaking. Woodblock printing and painterly monotypes, both of these processes grabbed my heart. The tactile experience of carving wood with precision tools, and then the excitement of the first woodblock print. The immediacy of Monotype printing is so appealing and random.

My vivid use of colour and bold brush strokes are indicative of my personality. I feel so much passion for so many things in life and to bring this passion to life on a canvas or paper is something that is necessary for my soul. I've tried to paint with more muted colours but it's not me, so I do understand that I must stay with what captures my heart and hopefully it will capture someone else's.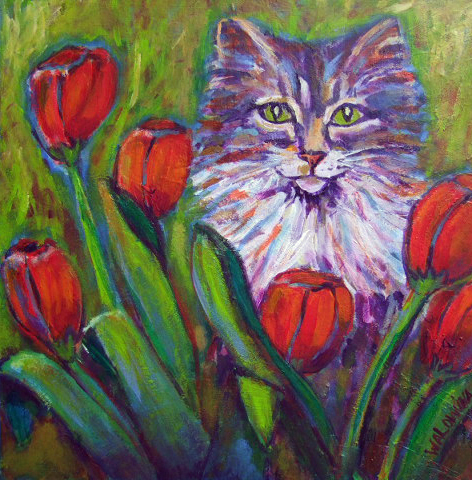 Kara Lou, 2010, Acrylic 12 x 12
Spring Tulips, Acrylic, 2011, 22 x 24"
Lucy 2010, Acrylic, 12 x 12