British Columbia Travel Guide

The unofficial BC Travel & Tourism Guide

The village of Winlaw is located only 19 kilometers south of the village of Slocan. This very laid back community of rural farms and forest coated Selkirk Mountains in the beautiful Slocan Valley. The eclectic variety of friendly people, unique hidden galleries, cafes, yoga studios, metaphysical shops, u-brew, high-end/low-end brands of vehicles, and fruit and vegetable stands present a wonderful "home-grown" feeling.


Though, quaint and low key, the surrounding natural settings are prime for lake side enjoyment or hill top triumphant hiking or mountain biking experiences and are the site of great inspiration for artists visiting or local.

In the winter seasons, the waters become more diverse. When frozen, visitors can experience first hand ice fishing, skate the solid ponds or head out to the hills to where the falling snow brings more great powder to enjoy a day of cross-country or downhill skiing.

Anytime of year visitors are able to relax, take in the beauty of the Winlaw surroundings either on foot, birdwatching, by canoe, or even guided tour. Rentals are available through local tour groups.

Come join the mix of pleasantries, places, faces and adventures!

Population: 400

Highlights:
Kokanee Glacier Provincial Park
Slocan River
The Slocan River Rail Trail - Spirit of 2010 Trail
Karibu Park
Annual "Shreddin' the Loop" mountain bike race

History:
The Kootneys and the Arrowlakes Region are the original home to the Sinixt, considered the Mother Tribe of this region, and Ktunaxa Kinbasket First Nations bands of the Interior Salish (languages of varied tongue were spoken in this region). The Sinixt were considered an extinct population of First Nations in the late 1950's, a totem placed by BC Hydro was dedicated in their memory. However, several members still exist and were spread or fled to various regions of Northern USA. They continue to gain acknowledgement and hand down their family legacies as there was so little record kept by Government for many of the dispersed tribes up to this point.

The area now know as Winlaw was named after John B. Winlaw, who built a sawmill in the area around the early 1900's. The community's original industries were sawmills, forestry, and farming/agriculture.

Climate:
Summer average 19 degrees Celsius
Winter average 0 degrees Celsius
Winlaw Accommodations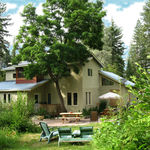 A deluxe vacation rental on 3 forested acres in the Slocan River Valley, near Nelson. View their excellent website !

Winlaw Things to Do