British Columbia Travel Guide
The unofficial BC Travel & Tourism Guide
Burns Lake - Provincial Park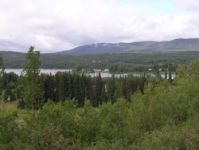 Burns Lake lays at the bottom of the Bulkley Basin next to the largest Provincial Park in British Columbia - Tweedsmuir Park and the smallest - Deadman's Island Provincial Park, an island of only one-hectare actually located in Burns Lake. The massive wilderness at the doorsteps of Burn Lake gives fly-in, fly-out access and tours for sightseeing, hunting, and fishing. Many of the lakes in the surrounding region are stocked with char and rainbow trout.
There are no facilities at this park and also no user fees.

Contact Info:
Just click on the following links for more information about nearby communities such as Burns Lake (accommodations in Burns Lake), Houston (accommodations in Houston).