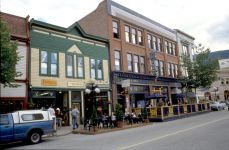 Photo: Josep Penella
Surrounded in the Selkirk Mountain forests, over three hundred historical buildings line the hills of Nelson. Appropriately so, the towns official flower is the "heritage rose". The stone walls of the court house and fantastic character homes of years past bring an architectural atmosphere that still generate the warmth and neighborly friendliness, which Nelson has become known for.


Each season sparks new activities for traveling families, couples and the locals, who have grown to love Nelson's wilderness. Set on one of British Columbia's largest lakes, Kootney Lake, water sports such as; water skiing, sailing, fishing, swimming and lounging on air mattresses are typical on summer's day.

Visitors are welcome to join in on some the communities annual events, heritage site tours, wilderness adventures, arts and theater cultural festivities, or dine at one of over forty (plus) restaurants that host a tempting array of great menus. There a hundreds of choices when it comes to exploring Nelson's rich culture, heritage, and large arts community. The energy and support for the arts is unavoidable. So much so, that most of all the public buildings and restaurants double as galleries.

A similar wide range of options also exists when it comes to the regions rugged mountains, which are scattered with hundreds of hiking and biking trails primed for exploring the forests and lakes. As the seasons change, winter brings about a whole list of additional terrain sports like; snowshoeing, down hill skiing, snowboarding, sledding, tobogganing, cross country skiing and even lounging in the hot springs!

Nelson is situated on the junction of provincial Highway 3A and Highway 6.

Population: 9,298

Highlights:
Hot Springs & Spas
Home of the Kootenay's own Snow Sculpture Team
Capitol Theatre
Whitewater Ski Resort
Stagleap Park at the top of the Kootenay Pass
Lakeside Park
Streetcar 23
The Nelson Museum
Ainsworth Hot Springs
Kokanee Creek Provincial Park
The Doukhobor Village Museum
Creston Valley Wildlife Management Area

Things To Bring:
Hiking notice: some trails impeach on private property in the back country and the general rules are - no dogs, avoid disturbing creeks, no littering, stay on the trails and be polite with others.

History:
The Kootenay Indians and their ancestors predate the Aztec cultures. Kootenay is the Indian word meaning "water people". Their summer shelters were teepees built of tule mat-covering and the winter months they dwell in subterranean timber superstructures covered with branches, sods and soil. The harvest of multiple berries and game provided them with ample food sources. Though, when the salmon harvests ran low and the white settlers arrived few of the tribes remained in the area.

It was around 1867, when gold was discovered at Forty-nine Creek, nine miles west of Nelson, that the prospectors and explorers really took notice of the area around Kootenay Lake. A boom began shortly after and Nelson was a supply and camp town for miners and fur traders. This also occurred for other small towns in the area. The two railways which were routed through Nelson also helped with the growth and property of the town. Then the noted architect Francis Rattenbury arrived and design granite-hewn, chateau style civic buildings that set the new look for Nelson. By 1910, Nelson a hydro generating station, numerous street cars, a sewer system, and its own police force.

Climate:
Summer average 21 degrees Celsius
Winter average -2 degrees Celsius

Snow report for Whitewater
Closed (end of season) / Past 48 Hours: 0in. / Slopes, top station: N/A / Base Depth: 0in.
Last update: Wed, 08 May 2013 20:40, provided by www.onthesnow.com
Map of Nelson

= Accommodation,

= Free wireless HOTSPOT,

= Artist/Attraction