Thursday May 02, 2013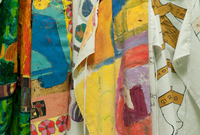 This year ArtWorks Artists are participating in the Saanich Studio Tours - Artists 2013!
Please come and visit the artists in their studio on Thursday, May 2nd 2013 at the Garth Homer Society, 813 Darwin Avenue in Victoria.
The studio will be open from 1:00 - 3:30pm.
All artists work in acrylic painting, water colour and coloured pencil.
David Whiting
Tanya Steinhausen
Gregory Robertson
Philip Davis
Ashley Haagensen
Katherine Wood
Cara Johnson
Andrew Wagner
Rachael Buchanan
Participating Members:
Please click on the member name to get more information.
Click on ArtWorks Artists at the Garth Homer Society - Booklet to print this tour as a PDF file. (Adobe Acrobat reader is required to print this file)


Contact Info: