Saturday Oct 08, 2016 - Monday Oct 10, 2016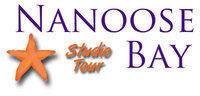 Studio Hours 10AM to 4 PM
Discover Nanoose Bay Artisan Studios during our Thanksgiving Studio Tour. Take a leisurely drive through beautiful Nanoose Bay, maybe bring a few friends or relatives while the turkey cooks. There will be a wide variety of hand-crafted art glass, decorative and functional pottery, wood-turned bowls and vases, one of a kind jewelry, photography, paintings in oil, acrylics, and much more.
For a map and individual studio hours throughout the rest of the Open Studio season, and other special events, including the guest artists at various studios, pick up a brochure at a local Visitor's Center, or during the tour visit our information centre at Nanoose Place and also see the artists displaying there before driving on to individual studios. You can also visit our website at www.nanoosebaystudiotour.com
Participating Members:
Please click on the member name to get more information.
1
Phoenix Gallery, Christopher and Jane Smith


8226 Sabre Road, Lantzville, BC

3
Willow Shack Studio, Ellen Atkinson


2430 Summerset Road, Nanoose Bay, BC

5
Phillips Pottery


2471 Schirra Drive, Nanoose Bay, BC

6
Knut Pottery, Alan Knutson


2550 Powder Point Road, Nanoose Bay, BC

7
Lee River Wood Turning, Ron Zaborniak


2621 Northwest Bay Road, Nanoose Bay, BC

8
MARY-ANNE PETERSON


283-2465 Apollo Drive, Nanoose Bay, BC

11
Ocean Pearl Soap Company


3271 Dolphin Drive, Nanoose Bay, BC

12
Helen Kilsby


2571 Selva Place, Nanoose Bay, BC

14
Vera Dover Canadian West Coast Artist


1578 Marina Way, Nanoose Bay, BC

17
Red Cod Forge / Affinity Stone Jewelry, Dave & Debra Kasprick


2155 Spurs Place, Nanoose Bay, BC

19
P. Nadeau Studio Gallery, Pauline Nadeau Evans


3397 Bradner Circle, Nanoose Bay, BC

21
Studio Meredith, Katherine Meredith


3784 Mallard Place, Nanoose Bay, BC
Click on Nanoose Bay Thanksgiving 2016 Studio Tour - Booklet to print this tour as a PDF file. (Adobe Acrobat reader is required to print this file)

Other Participants:


Contact Info: