Welcome to our Art Workshops guide for information about Art Workshops in Tumbler Ridge.
Total listings: 1 Showing: 1-1
Page:

[1]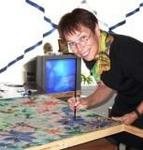 Fire up your creativity in the inspiring atmosphere of artist's home in the beautiful Northern Rockies. Creative vacation with Mila's silk painting workshops offers fulfilling recreation for body mind and soul.
Tumbler Ridge, V0C 2W0, box 1858, 284 Murray Drive
Ph. 250-242-3389
add your listing