British Columbia Travel Guide

The unofficial BC Travel & Tourism Guide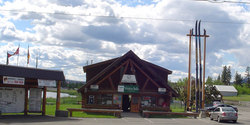 Combine wonderful wilderness adventures with some of the most pristine lake collections in the Province and visitors will find themselves fishing one of 100 Mile House's five lakes; Lac La Hache, Canim Lake, Horse Lake, Green Lake, or Bridge Lake. Relaxation or "take action" planned vacations here are available to nature and outdoor enthusiasts of all backgrounds and degrees of ability. The bird watching is a highlight to the areas numerous wetlands and lakes. However, there other specter sports such as the Cariboo ski marathon which brings spectators and cross-country athletes from across the globe. 100 Mile House is the self-proclaimed International Nordic Skiing Capital.


Recreational activities on the water, whether the water is tepid in the summer or frozen solid in the winter are countless. The shore side for some visitors may be preferred and therefore, horseback riding, camping, snowmobiling, mountain biking, leisure trail hiking, or snowshoeing can occupy a full day of adventure.

The southern Cariboo is also gaining a reputation for its wine. Don't be shy to visit the local wineries and restaurants to request a sample of what they consider a fine year!

Population: 1,815

Highlights:
Little Britches Rodeo, May
Wagon of the Barnard Express and Stage Line with its glossy red paint
Mt. Begbie Lookout, 16 kilometers south of 100 Mile House
Mt. Timothy Ski Area

History:
Along the Gold Rush Trail between Kamloops and Quesnel (as it is known today) a roadhouse had been built in 1862. The house (Bridge Creek House, named after the nearby creek) would later become known as 100 Mile House marking the miles from the origin of the trail at Lillooet. By 1930, the town consisted of a roadhouse, a general store, a post office, a telegraph office, and a power plant. Population 12.

Today, the population is not very large however this town is responsible as a staple service and commercial area of the surrounding communities and industries within the Cariboo - a combined population of 200,000!

Climate:
Summer average 20 degrees Celsius (very dry, and evenings cool)
Winter average -15 degrees Celsius (starts late November until late February approximately)
100 Mile House Accommodations
100 Mile House Things to Do