Royal BC Museum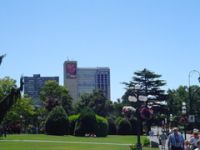 675 Belleville Street, Victoria, British Columbia
Permanent Galleries
The Royal BC Museum is a place of discovery. Through its unique galleries, the Museum showcases the human and natural history of British Columbia, and features periodic exhibitions of international renown. Highly realistic and inviting displays, such as the Ice Age and Coastal Forest dioramas, provide visitors with a sense of having truly experienced the authentic settings of many exhibits.
Temporary Exhibits
Royal BC Museum Cultural Precinct
The Royal BC Museum anchors an area bounded by Douglas, Belleville and Government Streets, steps from Victoria's Inner Harbour and across the street from BC's Legislature Buildings. This cultural precinct includes the BC Archives, Helmcken House, St. Ann's Schoolhouse, the Netherlands Carillon Tower, Thunderbird Park and Mungo Martin House - Wawadit'la. Read More
Gallery Rentals
The Royal BC Museum is pleased to make its impressive exhibit galleries available for rental by outside groups for their special occasions. Our spectacular venues are perfect for corporate receptions, meetings, or banquets of almost any size.
School Programs
On-site school programs on a variety of subjects have been given every year for nearly 30 years at the RBCM. Each year an average of 8 to 10 programs are given on subjects ranging from pioneer life to marine biology. Programs are offered from the middle of October to the end of May and take place in the museum galleries and classroom.
BC Archives
The BC Archives is the archives of the government of British Columbia, and provides research access to records of enduring value to the province for both the provincial government and public clientele.
National Geographic IMAX Theatre
Royal Museum Shop