Okanagan Lake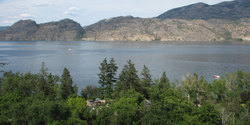 Though small in area, Okanagan Lake Provincial Park (98 hectares) is very popular, and with good reason. On a classic Okanagan shoreline, the dry desert slopes with their ponderosa pine and sagebrush mingle with a verdant lakeshore; clean pebble and sand beaches slope enticingly into warm, jade-colour water; it is safe and easy to swim; families can let children run over green lawns; and hot sunny days give over to warm fragrant evenings and leisurely barbeques. The park embodies the 'Okanagan experience' and explains why so many early settlers to British Columbia chose the valley to make their new homes.
Recognizing the area as special and representative of something distinct, the park was established in 1955. There is extensive protection from banks of trees above the park: deciduous and conifer, native and non-native. It is a place that feels like a small and separate kingdom, where visitors want to dip their toes in the lake and linger as they take in the view, to watch sunsets, or star-filled summer skies.
Activities include swimming, canoeing, kayaking, fishing, waterskiing, windsurfing, walking and wildlife viewing. There are also interpretive programs that run from June to September.
Walking along a nature trail, visitors enjoy not only the varied flora, but wildlife, which includes gopher snakes, squirrels, western toad and turtle, cedar waxwings, quail, northern shafted flickers, western meadowlarks, hummingbirds and an endangered bird species, the lewis's woodpecker. A close look at the ground may reveal small funnels in the earth where ant lions hide and wait for unwary insects. In the evening, bats emerge from their hiding places and flutter over the lake or above the irrigated lawns.
Camping:
Camping is divided into two sections, north and south.
The North Campground has 80 sites, including nine double sites, 56 of which are able to be reserved from May 16 - Sept 1 and the rest available on a first-come, first-served basis. It is closed in the late fall and winter.
The South Campground has 88 sites, 60 of which are able to be reserved from May 16 to Sept 1, with the rest available on a first-come, first-served basis. The campground is open and staffed from March 28 to Oct 12. There is a gatehouse to the campground where guests must register. Other facilities include showers and phones. The gate is open in the off-season, though no services are provided.
To reserve a site follow this link: www.discovercamping.ca
Location and access:
To get to Okanagan Lake Provincial Park, head north from Summerland on Hwy 97 for 11 km and look for signs that bring you from the highway down to lake level.