Okanagan Mountain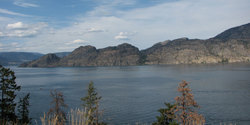 Okanagan Mountain Provincial Park offers an unusual experience for visitors to British Columbia who usually come expecting to see verdant forests and high mountains. The park is in the interior dry belt where ferns have been replaced by cactus, and cedars are replaced with ponderosa pine. The beautiful waters of Okanagan Lake, which is over 100 km in length, stands in stark contrast to the dry hills, and has drawn visitors and settlers to the valley from the earliest of times. The park claims 33 km of wilderness lakeshore, and extends eastward to higher elevations where spruce and fir forests rim mountain lakes and hikers can enjoy wonderful views of the valley and the Monashee Mountains.
Boaters ply the shoreline, which is dotted with secluded bays and small beaches, picnicking, water skiing and swimming, while mountain bikers, hikers and campers can explore the trails. Much of the beauty of the area exists in the contrast between hot summer days, where daytime highs will go above 40 degrees, and the cooling, lovely water of the lake. The air is fragrant with the smell of pine, dry grass and sage, and the warm evenings thick with the sound of crickets. In winter, moderate snowfalls cover the hills and the lake is rimmed, or sometimes completely covered, with ice.
The 11,000 hectare park can be explored on foot, by bicycle and on horseback. The immensely popular trail along the disused Kettle Valley Railway crosses high trestle bridges, including that over Myra Canyon. Norman, Baker and Divide Lakes are stocked with trout for great fishing, and wildlife includes bighorn sheep, rattlesnakes, deer, black bear, beavers, bats, cottontail rabbits muskrats, with bird species including chukar partridge, wrens, swifts, sage thrashers, woodpeckers, curlews, and dippers. Limited in-season hunting is permitted.
There is some lakeside camping as well as rustic walk-in campsites including those at Baker Lake, Divide Lake and Victor Lake. Toilet facilities are primitive and the only cabin, at Divide Lake, is serviceable but not maintained by Provincial Parks.
Location and access:
Road access from the south is 25 km from Penticton, through Naramata, and from the north via Lakeshore Drive in Kelowna. Peachland is across the lake from the Park and has numerous boat launches.
Caution should be exercised, as the lake is subject to sudden winds and thunderstorms. Everyone using the park should also remember that the soils are extremely fragile in this area and should take great care to prevent erosion. A single disturbance can take years to recover. Boaters should make certain to maintain their engines and prevent pollutants from entering the lake.