Clayoquot Arm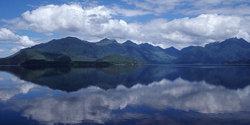 Photo: Peter Reid
Located on the west coast of Vancouver Island, Clayoquot Arm Provincial Park encompasses the lower Clayoquot River, Clayoquot Lake and the forested slopes northwest of the Clayoquot Arm of Kennedy Lake.
Unique flora and fauna, secluded sandy beaches, uninhabited islets and a fresh water lake can all be found in this park which contains rare old-growth forests of Sitka spruce in the Clayoquot Lake and lower Clayoquot River areas. Spawning conditions for Sockeye salmon in the Clayoquot River and along the shores of Clayoquot Arm are excellent.
Recreational opportunities:
Clayoquot Arm Provincial Park offers many recreational opportunities, including fishing for Cutthroat trout, canoe or kayak paddling along the scenic shoreline or observing wildlife in its natural habitat. An unusual phenomenon occurs in Clayoquot Arm: Sockeye salmon spawn deep below the water surface making for a great viewing opportunity.
Visitors to this park can also hike and camp in the wilderness along the shores of Kennedy Lake, the largest body of fresh water on Vancouver Island.
Cultural Heritage:
This area has been inhabited for thousands of years by the
Nuu-chah-nulth First Nation peoples whose connection to this land is a vital, driving force. It is important for visitors to respect this connection. Access to Indian Reserves is prohibited unless prior permission has been granted from the band office.
With the arrival of settlers in the 1900s, fishing and logging became viable industries. Today, tourism is strong – encompassing wildlife viewing, sports fishing, kayaking, wilderness camping and other activities.
Wildlife:
Black bears, wolves and cougars may be present anywhere in the park. Park users should always be aware of bears and other wildlife in our park environment. Never feed or approach bears or other wildlife.
Camping:
There are no designated campsites at this park, however random wilderness camping is allowed. No facilities are provided and there is no fee. This park is open year round; there is no fee for winter backcountry camping. Bring your own drinking water.
Access to the park:
By boat from the Clayoquot Arm Bridge on Kennedy Lake, off Highway 4 going north on West Main logging road. There is a boat launch located next to the Clayoquot Arm Bridge, accessed from Hwy 4 to West Main logging road adjacent to the park. This boat launch is suitable for car toppers, canoes and kayaks.
By active logging roads: The chance of encountering loaded logging trucks while traveling these roads is highly likely. Logging trucks have the right of way at all times. Drivers should use caution and yield to logging trucks; use pullouts whenever possible.
Location and characteristics:
Clayoquot Arm Provincial Park is one of several parks within the interior of Clayoquot Sound, a magnificent, biologically rich, mostly wilderness area on the west coast of Vancouver Island, which encompasses 350,000 hectares of land and ocean. The other parks include Clayoquot Plateau Provincial Park, Clayoquot Lake, Kennedy River Bog, Kennedy Lake, Tranquil Creek's headwaters, Hesquiat Lake, plus several
smaller coastal areas such as Dunlap and Morfee islands (in Epper Passage Provincial Park), Dawley Passage and Lane Islet.
Clayoquot Sound occupies a straight-line distance along the coast of 90 kilometers, between Barkley and Nootka Sounds. It reaches a maximum of 35 kilometres inland, up to the crest of snow-capped mountains. These mountains are part of the central spine of Vancouver Island and form the headwaters of the rivers that drain Clayoquot Sound.