Clayoquot Plateau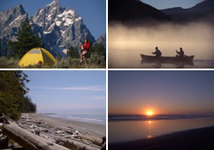 Clayoquot Plateau Provincial Park is situated in the Clayoquot River drainage area, near the west coast of central Vancouver Island. The 3,155-hectare park is a high elevation plateau protecting rare plant species, undisturbed old-growth forests, fragile karst features, such as sinkholes, and numerous small lakes.
This rugged, remote and undeveloped park is extremely difficult to access. It can only be reached through a series of logging roads. There are no developed trails in the park, but determined visitors will find a pristine forest of Sitka spruce, Hemlock and Cedar. Spectacular views of Clayoquot Sound can be enjoyed from the Plateau's summit. To the East, the park is bordered by the Kennedy River, which provides good swimming and fishing. Hiking is possible from the day-use recreation area. There are no other facilities available in the park.
Clayoquot Plateau Provincial Park contains an extensive cave system suitable for exploration by experienced cavers. However, the area is sensitive and unmanaged and its use is not recommended until a plan is complete.
Location and characteristics
Clayoquot Plateau Provincial Park is one of several parks within the interior of Clayoquot Sound, a magnificent, biologically rich, mostly wilderness area on the west coast of Vancouver Island, which encompasses 350,000 hectares of land and ocean. The other parks include Clayoquot Arm, Clayoquot Lake, Kennedy River Bog, Kennedy Lake, Tranquil Creek's headwaters, Hesquiat Lake, plus several smaller coastal areas such as Dunlap and Morfee islands (in Epper Passage Provincial Park), Dawley Passage and Lane Islet.
Clayoquot Sound occupies a straight-line distance along the coast of 90 kilometers, between Barkley and Nootka Sounds. It reaches a maximum of 35 kilometres inland, up to the crest of snow-capped mountains. These mountains are part of the central spine of Vancouver Island and form the headwaters of the rivers that drain Clayoquot Sound.
Camping:
There are no designated campsites, however random wilderness camping is allowed. No facilities are provided and there is no fee. This park is open year round, however roads may become inaccessible due to snowfall. There is no fee for backcountry camping.
Good to know:
1.Snow comes early and melts very late in the season.
2.Bears, wolves and cougar may be present anywhere in the Sound. Do not bring pets into the park and never feed or approach bears or other wildlife.
3.Be prepared for cold wilderness conditions, even in the summer. Bring emergency equipment and spare clothing.
Access:
Clayoquot Plateau Provincial Park is located on the western side of the Pacific Rim Highway 4, between Port Alberni and Tofino. The park can be accessed from the base of the plateau west of Sutton Pass off Highway 4 (approximately 1 hour past Port Alberni). Nearby communities include: Tofino, Ucluelet and Port Alberni
Cultural Heritage
"Clayoquot" - pronounced Klak-wot - comes from Tla-o-qui-aht, the name of one of the First Nations tribes who lived there. The park lies in the traditional territory of the Tla-o-qui-aht First Nation. Their connection to this land is a vital, driving force and visitors are asked to respect this connection. Access to Indian Reserves is prohibited unless permission has been obtained from the band office.
Prehistoric finds
1,988 bones representing 13 Vancouver Island marmots were found in a small cave in an isolated mountain range on the Clayoquot Plateau. The find became even more significant when a laboratory at the University of Toronto that specializes in dating bones determined from radiocarbon dating that the bones were about 2,600 years old. The question of how marmots got into the cave was solved when an archaeologist found fine cut marks on the surface of some bones that are consistent with the butcher marks from a sharp stone tool. The bones are the remains left by prehistoric hunters who took marmots for meat or pelts. Since the Clayoquot Plateau discovery, prehistoric (700-1200 years old) marmot bones from human hunters have been found in three other sub-alpine caves on the Vancouver Island. http://www.marmots.org/cave_bones.html