Homathko Estuary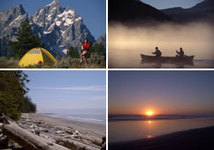 Situated at the head of one of the most magnificent inlets in the world, Bute Inlet, Homathko Estuary Provincial Park protects the mudflats, waters and adjacent lands where the Homathko River empties into the sea. After its journey through the heart of the Coast Range, the river has gathered water from the highest of peaks, including Mount Waddington (4019 m), and greatest of ice fields in central British Columbia. The habitat created at its estuary is of immense importance to wildlife: in the water, in the mud, in the riparian zones and in the forests, life thrives.
Much history has been created around the Homathko River drainage, including mid 19th century attempts at creating a mountain pass from the sea to the Chilcotin Plateau. The estuary was logged in the early 20th century for black cottonwood hardwood. The park (234 hectares of upland and 216 hectares of foreshore) is situated in the traditional territory of the Homalco First Nation and was created in 1997. It encompasses about 500 m of the lower Teaquahan River. Grizzly bear, black bear, black-tailed deer, wolves, cougar, salmonids, shorebirds, raptors and waterfowl all utilize the area. Part of the park is included in the Rockfish Protection plan.
Activities are limited by access and the nature of the terrain. Floodwaters constantly change the estuary, with two peaks in water flow, one in response to snow melt in late June to early July, the other to glacier melt in August. Mudflats make foot travel difficult. The best choice to view the park is by canoe or kayak, with care taken to adapt to large tidal fluctuations, which can range to over 5.5 meters. Bute Inlet is about 80 km long, making travel to its head from the more populated regions of Georgia Strait suited to larger boats or floatplanes. There are tidal fishing opportunities.
Camping
There are no improvements in this park for camping. Wilderness camping, depending on the season, is possible, but problematic.
Location and access
Homathko Estuary Provincial Park lies 220 km northwest of Vancouver, at the head of Bute Inlet. There is boat access via Bute Inlet to Waddington Harbour. There are no moorage facilities and travelers should be completely self-sufficient. Tours are available from the town of Campbell River on Vancouver Island.