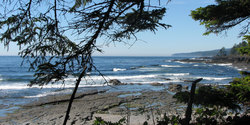 There are 225 Gulf Islands, many of which are quite small and only accessible by private boat. The largest island is Vancouver Island, comparable in size to the island of Japan. The other six less inhabited islands; Saltspring, Mayne, Galiano, Pender, and Saturna fitted with small cozy villages, accommodations, art galleries, park lands, and great outdoor camping and exploration.
Population: 500,000
Highlights:
Tempered climate and fantastic natural wilderness
Water sports activities; from whale watching to kayaking
Art communities and galleries
Fresh local grown or organic foods
Sightseeing and Eco tours
Amazingly refreshing air and breath taking views
Giant snowcapped mountains and deep blue oceans
Things To Bring:
As a reminder: bike helmets and seat belts are mandatory in British Columbia.
Alternative layers of clothing, safety equipment and appropriate outdoor clothing is suggested for the various types of recreational activities.
History:
The original inhabitants to the islands existed long after the last ice age. First Nation Aboriginals were semi-nomadic and journeyed the coast lines of these islands in search of food, fishing and hunting grounds, especially in the summer months. Primarily the First Nations Coastal Salish tribes were recorded and village evidence has shown signs of a sophisticated social system for families and organized activities.

By 1792, Captain George Vancouver arrived to claim the island for the British Crown. The islands were thought at the time to part of a gulf. Though later, more exploration and newer maps would prove that the island were indeed not part of a gulf but a strait, the name remained "Gulf Islands".
Climate:
Summer average 19 degrees Celsius
Winter average 5 degrees Celsius
Vancouver Island and Gulf Islands Accommodations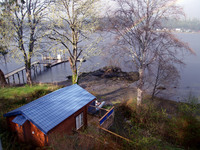 Two cozy waterfront cabins and a one-bedroom waterfront suite on half acre property on Ucluelet Harbour. Very private & romatic! Close to the Wild Pacific Trail, Long Beach & all amenities in town.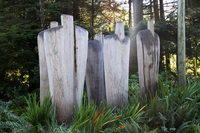 Tofino Botanical Gardens & Ecolodge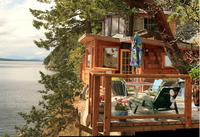 The Perfect Getaway!

Vancouver Island and Gulf Islands Things to Do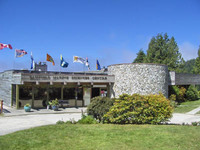 Come Experience the Magic of BMSC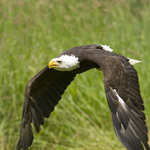 Get Up Close to Amazing Birds of Prey

Explore the heritage, culture and natural history of the southwest coast while enjoying the scenic beauty along Highway 14 from Sooke to Port Renfrew