Pacific Rim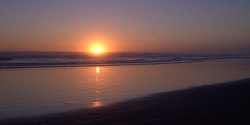 Pacific Rim is located on the edge of the West Coast on Vancouver Island and the Pacific ocean. It consists of three geographically seperate areas including Long Beach, the Broken Group Islands and the West Coast Trail covering an area of 51,077 hectares.
Its moderate maritime climate (cool foggy summers, mild wet winters) and the a bountiful and diverse intertidal zone are the basis for a diverse marine wildlife and the growth of temperate rainforests, dominated by coniferous tree species such as Sitka Spruce, Western Hemlock and Western Red Cedar.
The people of the Nuu-chah-nulth First Nations have lived along this coastline for centuries.
The Long Beach Unit
is best-known for its long sandy beaches and the most easily accessible unit of Pacific Rim National Park Reserve. Long Beach is located between the villages of Ucluelet, in Barkley Sound, and Tofino, in Clayoquot Sound. There are several campgrounds and resorts in the area and lots of easy hiking trails. Each spring over 20,000 grey whales migrate through the park waters. Visit the Wickaninnish Interpretive Centre focuses on the natural and cultural heritage of Pacific Rim National Park Reserve at the end of Wick Road.
The Broken Group Islands
consists of more than one hundred islands and rocks scattered throughout Barkley Sound on the west coast of Vancouver Island. They are accessible only by boat, explore sheltered bays, exposed reefs, densely forested islands and bare, wind-swept rocks. A kayaker's paradise!
The West Coast Trail
is an internationally renowned 75KM (47 mile) historic backpacking route along sandstone cliffs, waterfalls, caves, sea arches, sea stacks and sandy beaches. Originally established in 1890 as a life saving trail for shipwrecked mariners it follows a rugged shoreline. Over 66 ships have met their demise along this stretch of the "Graveyard of the Pacific".
A park pass is required for all visitors to national parks. This pass is available at the park gates or contact the visitor information centre of Parks Canada.
For fees and operating hours check back the Parks Canada website at www.pc.gc.ca/pn-np/bc/pacificrim/index_e.asp .