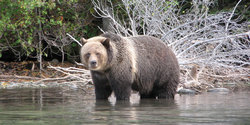 In one location, black bears plod quietly along a misty beach, turning over rocks and munching on crabs. In another, a 500 kg grizzly crashes through seemingly impenetrable undergrowth; in another, a bear's lightening fast paw, equipped with 9 cm claws, plunges into a river and emerges with a glistening salmon.
These inspiring wilderness moments are possible in the Bear Watching regions of BC. While it is possible to set out to see bears on one's own, you will have much better success utilizing one of the companies that take you to known viewing areas in British Columbia.
Vancouver Island, home to Black Bears, but not Grizzlies, has several operations on the West Coast of the island. From the north east coast of Vancouver Island, boats and aircraft take visitors into the Great Bear Rainforest at the head of the mainland fjords, such as Knight Inlet, where Grizzly and black bear live. There are also operators further north, near Bella Coola and Prince Rupert, to the east in the Cariboo Mountains, and south in the Kootenays. Bears can be viewed from land, but are often best seen from a boat, either along coastal beaches, or rivers. Wherever you choose to go, a great side benefit of a bear watching tour is seeing other animals, from moose to grey whale, and sideline activities, such as rafting, bird watching or snorkeling with salmon.

Total listings: 1 Showing: 1-1
Page:

[1]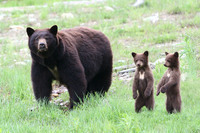 Get Bear Smart!