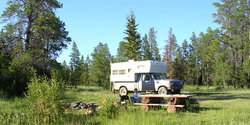 Trade in your roof for a sky full of stars, and gaze into a campfire. Campgrounds in BC vary from a clearing in the bush at the end of a dirt road, to large sites with paved roads, running water, sanitation and laundry services, stores and even recreation facilities. Some accommodate only tents, while others welcome large parties with 5th wheel trailers. Prices vary greatly, sites are reservable and non-reservable, but the one constant is they provide a wonderful break from being inside, are perfect for the enjoyment of British Columbia's forests, mountains, lakes and sea, and are often set near walking trails. Campgrounds in British Columbia are managed privately, by the Provincial Government, the Forest Service and by logging companies. Please remember, many campgrounds are user-maintained; practice low-impact camping and leave nothing behind.

Total listings: 1 Showing: 1-1
Page:

[1]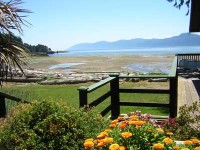 Come for a Relaxing Getaway. Meet up with family, friends or just a romantic getaway. Festivals, activities, beachcombing. Lots of wildlife, beautiful gardens. Ten Spacious fully equipped units, home away from home. wifi, cable.